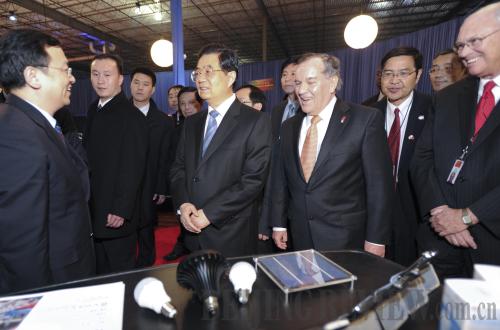 ENERGY SAVER: A representative of the Shenzhen-based BYD Co. Ltd. briefs Chinese President Hu Jintao about the energy-saving products the company produces in the United States at an exhibition in Chicago on January 21 (XIE HUANCHI)
While politicians and analysts talk about strengthening the China-U.S. relationship to benefit the entire world, an encouraging group of people from the two nations is actually making progress.
The ENN Group, a leading Chinese private energy company, and the U.S. power giant Duke Energy Corp. signed an agreement, titled "Future Energy Technology Demonstration Platform," in Washington, D.C. on January 18. The deal was struck the day before Chinese President Hu Jintao started his state visit to the United States.
The agreement, which came out of the second round of the U.S.-China Strategic Forum on Clean Energy Cooperation, aims to promote the joint development of technologies to help build greener cities in both China and the United States. Focus will be put on "electricity produced via cleaner generation technologies, energy storage, energy efficiency, energy recovery and electric vehicle infrastructure," said a Duke Energy press release.
The two companies have been working together on a number of projects for several years and both share the vision of green energy, said Wang Yusuo, founder and Chairman of the Board of the ENN Group. The group will team up with Duke Energy to construct China's first smart energy "eco-city" in Langfang, Hebei Province.
"This partnership is not only a stepping stone for cleaner energy in China and the United States," Wang said. "[It] will lead to the development of new, cleaner ways to produce, store, distribute and use energy for the benefit of the world."
Other Chinese and U.S. business executives also signed agreements on clean energy cooperation during the two-day forum. Co-hosted by the China Institute for Innovation and Development Strategy and the Brookings Institution, the forum brought together government officials, business executives and experts from both countries to discuss clean energy collaboration.
The State Grid Corp. of China signed an agreement with American Electric Power, in which the two companies agreed to jointly evaluate and potentially advance six transmission and distribution technologies. The China Guodian Corp. and the Florida-based UPC Management LLC signed wind power agreements, worth more than 10 billion yuan ($1.5 billion), to develop seven wind power projects. China's State Nuclear Power Technology Corp. also signed a $50-million deal with the Westinghouse Electric Co., in which the Chinese company will purchase 10 AP1000 nuclear reactors from Westinghouse.
A press release said a total of 13 clean energy cooperation agreements were signed at the forum and covered nuclear power, wind power, solar power, hydropower, smart grid and carbon capture and storage.
Wan Gang, China's Minister of Science and Technology, said at the forum that the China-U.S. cooperation on clean energy could serve as a model for the whole world. He said the two countries have complementary differences, in terms of energy structure and technology, and that both support the research and development of clean energy.
"I'm sure [clean energy] is the best point of convergence and cooperation between our two countries, and will be the bright spot in our future cooperation," Wan said.
His view was echoed by the overwhelmingly positive attitude of forum participants toward the clean energy collaboration endeavor.
"Complementary differences mean U.S.-China cooperation can be mutually beneficial," said David Sandalow, Assistant Secretary for Policy and International Affairs at the U.S. Department of Energy (DOE). He said that while the United States is facing credit supply challenges, China has abundant credit. He also pointed out that his country has slower construction cycles—mostly replacing existing structures—compared to China, where new buildings are being constantly and rapidly constructed.
By working together, China and the United States can "learn from each other, drive down costs and accelerate a clean energy revolution," said Sandalow.
Clean energy cooperation between China and the United States has been ongoing for years. In June 2008, the two countries signed the U.S.-China 10-Year Framework for Cooperation on Energy and the Environment, which now includes action plans for cooperation on energy efficiency, electricity, transportation, air, water, wetlands, nature reserves and protected areas, according to the DOE.
In November 2009, Chinese President Hu Jintao and visiting U.S. President Barack Obama announced seven new clean energy initiatives during their Beijing summit, including the establishment of the China-U.S. Clean Energy Research Center (CERC) to facilitate joint research and development by scientists and engineers from both countries. Each country will contribute $75 million to the center, which focuses on energy efficiency, clean coal and clean vehicles.
Regardless of whether past agreements were mere political gestures, both countries have recently been realistic about the economic opportunities to be found in such joint projects.
"The economic opportunities are increasingly very real," Jon Huntsman, U.S. Ambassador to China, said at the forum. He told the audience that cooperation on clean energy has created tremendous opportunity and has brought many high quality jobs to the United States.
Speaking on a panel at the forum, Ric Perez, President of Operations at the Westinghouse Electric Co., said Westinghouse's nuclear reactor project in China will create around 5,000 jobs in 20 U.S. states. These jobs are high-paying, he said.
"This is an economic sector that is found to have enormous growth in the coming years," Kenneth Lieberthal, Director of the John L. Thornton China Center at the Brookings Institution, said in a video on the institution's website. He said that, in the past year, U.S.-China clean energy cooperation has continued to move forward, regardless of the ups and downs in the bilateral relationship.