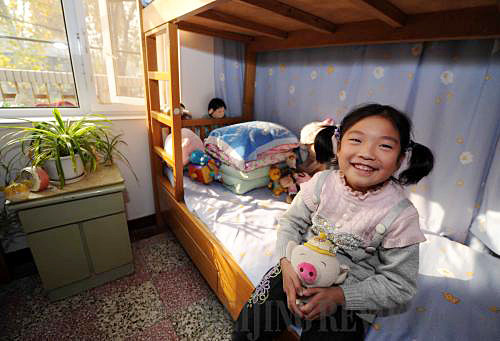 NEW HOME: An 8-year-old orphan sits in her room at an SOS Children's Village in Tianjin, on November 20, 2010. The institution is one of China's earliest SOS facilities built in 1984 and now accommodates more than 300 orphans (QIU YUEWEI)
As a result, orphans are at greater risk of being discriminated against or even maltreated, said Shang, who was one of the scholars taking part in the MCA's first national survey on orphans. She has been calling for the government to shoulder more responsibility for orphan care.
Shang is very happy with the government's new efforts to beef up assistance to orphans. Only the government is able to well protect all the children in China, she said.
Government's role
The 2005 national survey on orphans saying that more than half of all orphans were in need of assistance prompted the government to step up orphan care.
In 2006, the MCA launched a Blue Sky program to improve and expand children welfare institutions. Under the program, the ministry earmarks 200 million yuan ($30 million) annually from welfare lottery earnings to develop children's welfare infrastructure and local governments were also required to invest money for the same purpose.
The ministry planned to raise 6 billion yuan ($909 million) in the five years since 2006 to build child welfare institutions in large and medium-sized cities. The institutions combine daily care, rescue and relief, rehabilitation, education for normal orphans and special education for disabled orphans.
For some time, the government mainly took care of orphans through child welfare institutions. Most of the accommodated orphans were disabled, abandoned by their parents, said Shang.
Zhang Shifeng, head of the China Center of Adoption, said due to the existence of abandoned children, child welfare institutions are necessary.
Nonetheless, research has shown that institutional care is not the best option for orphans. The State Council's circular on orphans said that they should be offered care conducive to their sound physical and mental development. The circular lists several options, including care by relatives, institutions, foster families and adoptive families.
The government's new policy in 2010 differs from the Blue Sky Program. The highlight of this new policy is that living allowances are not only given to orphans living in welfare institutions, but also to those living in foster and adoptive families. That will enable them to live better in their communities said Kirsten Di Martino, UN Children's Fund (UNICEF) China Chief of Child Protection.
For this reason, Di Martino believes the policy is a turning point in China's child welfare history. UNICEF has always actively supported family or community-based child service system.
In addition to living allowances, the circular says orphans should enjoy a number of benefits for medical care, education, employment and housing.
The circular recommends orphans be covered by the basic medical insurance system for urban employees, the new rural cooperative medical care program, as well as the urban-rural medical assistance programs, with the insurance premium paid by the government.
Capable local governments and charitable organizations are also advised to afford commercial health insurances for orphans, insuring them against accidents and severe diseases.
Orphans' rights to education should be guaranteed, the circular said. Local governments are liable to pay for preschool education for orphans living with poor families. Government living allowances are not only given to orphans boarding in primary or junior middle schools, but also to those in middle schools, vocational schools and in the undergraduate programs of universities.
If orphans have difficulty finding a job after growing up, the circular said, they should be given priority to be allocated positions the government has created for disadvantaged groups.