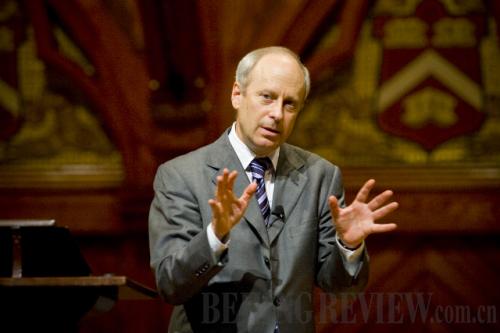 FAMOUS MOUTH: Harvard Professor Michael Sandel, lecturer in Justice, What's the Right Thing to Do?, has become very popular among Chinese fans of foreign university course videos after his class became available online (FILE)
For most white-collar employees in China, taking up learning without too much work is not easy as it's not practical for them to go back to school again. However, the overwhelming free online open courses have made a change.
"People always say they feel satisfied with their lives, but seldom use the word 'happy'," said Zhang Yufei, an employee for a PR firm. She says work was a heavy burden and she often felt on the verge of total collapse.
But things began to turn around when she got to know the popular online course called How to Get Happy, by Harvard professor Tal Ben-Shahar. "I knew I may not see the happiness right after the lessons, but at least I got to know which path I should take to happiness."
Lagging involvement
Different from ordinary viewers, some education insiders in China still threw some doubt upon online open courses.
"These online courses are just a means used by foreign universities to promote their recognition; they can't play the same role as regular classes because they aren't systematic. Only if all of us treat and accept them in a proper way can we really reap more," said Wang Xiong, a teacher from Peking University.
"The popularity of open courses from foreign countries offers a revelation to the higher education in our country and it exposes the shortcomings of our teaching methods and curriculum setup," said Liu Zhiye, Deputy Director of the Higher Education Research Center of Shandong University.
For a long time, Liu said, China's education from primary school to university education has been heavily focused on cramming knowledge into students while ignoring the cultivation of ability to question and innovate.
"Skipping class is common among Chinese college students as the classes seem uninteresting and less beneficial. People always say that there are big problems with the country's higher education, but I can't help with it. At least I can watch these foreign school courses as an alternative," Bo said.
Although most scholars agree making an online course video is something Chinese universities should try, they are not doing well in the endeavor, said Wang Zhuli, a professor from Sun Yat-Sen University in Guangzhou, Guangdong Province.
Some Chinese universities have been exploring and preparing their own open courses, which are composed of 22
categories of subjects in management, law, literature, economics, and so on. For instance, Tsinghua University in Beijing has uploaded 108 varieties of courses to the Internet, mostly in the form of PPT files, which are deemed a bit simple and dull compared to live recorded videos.
"I am happy to see online open courses will have better development and hope they will bring more benefits to China's education," said Dean Fan of the School of Foreign Languages of Ningbo University.