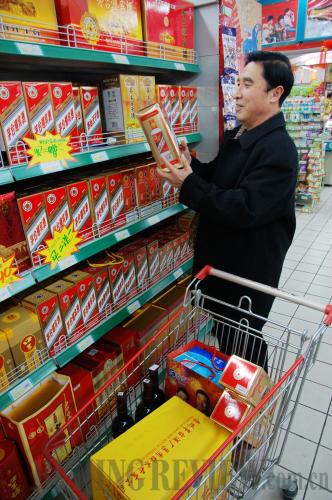 SALES BOOM: A customer selects liquor at a supermarket in Qingdao, Shandong Province. Spring Festival is a peak season for liquor sales every year (HIC/IC)
Ge Hua, Executive Deputy Chairman of the China International Liquor Culture Institute, said besides high-end liquors, common liquors have experienced significant appreciation. Two or three decades ago, a bottle of common liquor was sold at only 3 yuan ($0.46), but today it may be sold at more than 10,000 yuan ($1,517).
Ge said the liquor collecting market is new and could easily become a booming one in the near future. But as the idea of liquor collection becomes better known to the public, the craze of liquor collection will increase the demand of high-end liquors.
Old liquors aren't the only drinks appreciating—the price of new liquor is going up as well.
On January 1, 2011, Moutai raised the wholesale price of its liquor by 20 percent. A bottle of 53-degree Moutai liquor will be sold to wholesalers at 619 yuan ($94), up from the previous 499 yuan ($76). The brand suggested a maximum retail price of 959 yuan ($146) per bottle, but the highest retail prices of 53-degree Moutai have already exceeded 1,800 yuan ($277) a bottle.
Since liquor prices are increasing, many see this as a sign that liquors now qualify as a solid investment good.
Speculating in houses is not more profitable than speculating in Moutai, and investing in liquor is better than in gold. Similar investment ideas are spreading among speculators. Some dealers are quick to say that when high-end liquors are stored for five to 10 years, their prices may double.
However, Peng Jian, a financial planner at China Construction Bank, warns people to be rational and not to get involved in liquor collection blindly.
Peng said liquors are more suitable for consumption, but it is not realistic to realize investment purposes through liquors. At present, most pawnshops won't trade liquors, so people can only sell liquors to some small shops at prices much lower than market prices.
Some liquors can be auctioned, but such liquors are unlikely to be bought in ordinary shops. There are also no authoritative liquor appraising institutions in China and liquors cannot be opened for quality checkup.
Future brews
According to a report on the Chinese liquor market for 2010-15 issued by the CIConsulting Industrial Research Center in November 2010, Chinese liquor output value will reach 868.84 billion yuan ($131.84 billion) by the end of 2015. The average annual growth rate of sales revenue of Chinese liquor brewers will be 27.7 percent and the average annual rate of profits growth will be 34.2 percent. The two rates will exceed the overall industrial growth in China for the next five years.
Performance of listed liquor producers is particularly outstanding. At present, there are 15 listed liquor producers in China, whose sales volume contributed to more than 90 percent of the Chinese liquor market. On the A-shares market, the most expensive shares are from liquor producers. By January 18, 2011, stocks of Jiangsu Yanghe Brewery Joint Stock Co. Ltd. were the most expensive, at 212.33 yuan ($32.22) per share, and stocks of Kweichow Moutai Co. Ltd. ranked second, at 182.56 yuan ($27.7) per share.
But, aside from foreign brands, China's liquor industry has another serious challenger: wine. Xu Biao, an analyst of CITIC Securities Co. Ltd., said increases in people's income and the rising middle class have influenced and changed people's consumption behaviors. When choosing liquor or wine, people no longer consider just drinking requirements, but also look at brand, quality and service. And, for now, the image of wine in China better meets these requirements.