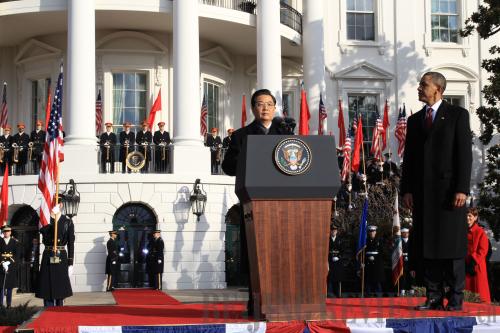 LOOKING AHEAD: Chinese President Hu Jintao prepares to speak during the state arrival ceremony on the South Lawn of the White House on January 19, as U.S. President Barack Obama looks on (XINHUA)
Following a welcome that included a 21-gun salute, Chinese President Hu Jintao delivered a clear message on the South Lawn of the White House on January 19. In the moderate but firm tone characteristic of the Chinese leader, Hu said China wants to work together with the United States to get things done.
"We should have a long-term perspective, seek common ground while putting aside differences, and jointly promote the healthy and stable development of China-U.S. relations," Hu said.
Indeed, Hu's state visit came at a time when China-U.S. ties are marked by unprecedented common interests, as well as mounting challenges. Although the two countries did not—and were not expected to—come up with immediate solutions to their chronic problems, the four-day trip was deemed a success. Most importantly, it provided an opportunity for the leaders to increase trust and reevaluate the Sino-U.S. relationship in a changing world.
With mutual respect and a commitment to cooperation, the two countries will be able to transcend political, economic and cultural differences and forge a strong partnership, analysts said.
Building trust
The greatest achievement of Hu's trip came when the two countries agreed on an upgraded definition of bilateral relations, said Yuan Peng, Director of the Institute of American Studies at the China Institutes of Contemporary International Relations (CICIR).
In a joint statement, the two countries said they would "build a cooperative partnership based on mutual respect and mutual benefit" for the sake of their shared interests.
This new vision deepens the agreement to develop a "positive, cooperative and comprehensive relationship," which was reached during U.S. President Barack Obama's visit to China in 2009, and it will chart the future course of China-U.S. relations, Yuan said.
The two countries also clarified how they view each other. China and the United States may not be allies, but there is no reason for them to become enemies either, he told the Xinhua News Agency.
The United States reiterated that it welcomes "a strong, prosperous and successful China that plays a greater role in world affairs." Likewise, China welcomes the United States as "an Asia-Pacific nation that contributes to peace, stability and prosperity in the region."
In the Asia-Pacific region, the two nations share an interest in safeguarding peace and stability, preventing the proliferation of weapons of mass destruction and promoting regional integration and prosperity, said Tao Wenzhao, a senior fellow with the Center for U.S.-China Relations at Tsinghua University in Beijing.
He said both will benefit from regional peace, and neither wants to see armed conflict, turmoil or economic recession in the region.
At a press conference following his White House summit with Hu, Obama said China's rapid development offers great opportunities. "That's a positive good for the world and it's something that the United States very much appreciates and respects," he said.
A sound bilateral relationship will not only serve the fundamental interests of Chinese and American people, but will also benefit the Asia-Pacific region and beyond, Hu said at the summit.
During Hu's trip, each president addressed the other's primary mistrust, said Douglas H. Paal, Vice President for Studies at the Carnegie Endowment for International Peace.
He said their statements should serve as reassurance and curb excessive fear. But to solidify the progress, China and the United States must increase exchanges, hold more working group meetings and strive for more concrete results in bilateral cooperation.
"The United States and China need to talk," said Derek Scissors, a China expert with the Heritage Foundation. "They need to talk at high levels so that the top leadership can have a better understanding of each other."
While big problems in the bilateral relationship remain, small steps were taken on some issues, including both countries' business environments, Scissors said.