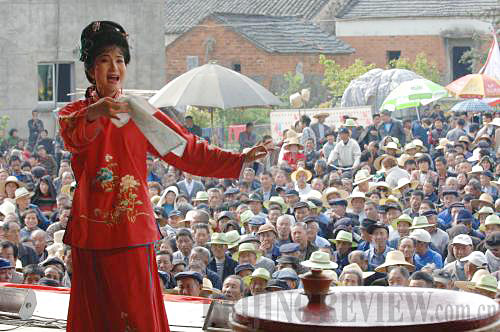 EASY LIFE: A local opera performance in Yaxi, Jiangsu Province, the first "slow city" in China accredited by Cittaslow International (CFP)
Pancakes are popular fast food snacks in Beijing, as it is convenient for people to grab one on the street and munch it while they wait for the subway train or bus when going to work in the morning.
Recently, a survey conducted by Beijing-based Life Times and Web portal Sohu.com show people often wolf down their meals. Of the 2,743 respondents, 43.31 percent said their quickest meal in a day took only five minutes. As to why they ate so fast, 29.02 percent blamed the fast living pace.
Ma Guansheng, Deputy Director of the Institute of Nutrition and Food Safety at the Chinese Center for Disease Prevention and Control, said the Dietary Guidelines for Chinese Residents compiled by nutritional experts recommends people spend 15-20 minutes on breakfast and about half an hour on lunch and supper.
Eating slowly and chewing more has many health benefits. Experts say chewing can stimulate people to secrete saliva and gastric acid, which make food easier to digest; chewing food more slowly can also help people lose weight; eating slow can also reduce stress.
A slow food movement was initiated by Italian journalist Carlo Petrini. In 1986, he protested the opening of a McDonald's restaurant in Rome, sparking an international slow movement.
Slow Food, a non-profit association, was founded in 1989 in Italy to counter the rise of fast food and fast life, the disappearance of local food traditions and people's dwindling interest in the food.
The organization uses the image of a snail as its logo and now has supporters in 150 countries around the world.
Slow food is embraced by a group of Chinese netizens active on Douban.com. One netizen known as Little CM said, "I do not understand why so many people like KFC and McDonald's. My ideal day starts with a breakfast consisting of scrambled egg, a cup of milk and a self-baked cake, which I leisurely enjoy. Then I stir-fry several dishes for lunch and share them with friends."
"Fast living in cities is distorting our life and environment. We should resist fast living, starting with slow food," Zhao Zeming, a member of a Slow Food organization told Hangzhou Daily, a local newspaper in Zhejiang Province.
Slow food used to be a tradition, now it had become a fashion, Zhao said.
Slow city
Cittaslow International, literally Slow City, was founded in Tuscany, Italy in 1999. It is a sister organization of Slow Food. Cittaslow has resisted the fast-lane, homogenized world so often seen in other cities. It celebrates diversity of culture and specialties of a town.
A snail is also used by Cittaslow as an icon for slow cities. Currently, there are 135 accredited slow cities in 24 countries around the world.
At the end of 2010, Yaxi in Gaochun County in east China's Jiangsu Province, was given the title of "slow city" by Cittaslow. It is the first Chinese region accredited by Cittaslow.
The tiny town, with a population of just 20,000, has 49 square km of fields for organic tea, Chinese herbs and orchards.
When Angelo Vassallo, Vice President of Cittaslow, visited Yaxi for the first time, he was deeply impressed by local natural and cultural resources, said Zuo Niansheng, Editor in Chief of local newspaper, Gaochun Today.
Most Chinese cities, with their large populations, are disqualified from this title by one criterion of Cittaslow. "The criterion is very selective at the moment, and no town or city with more than 50,000 residents can be called a slow city," said Cittaslow Chairman Pier Giorgio Oliveti.
Wang Hongtao, a resident in Yaxi, told China Daily he probably had a higher happiness index than those living in big cities like Beijing or Shanghai.
That is probably true. Last October, national TV broadcaster CCTV rated China's happiest cities, and many affluent but fast-paced cities such as Guangzhou and Shenzhen were not on the list.
CCTV's rating is based on a survey on residents in 104 cities and 300 county seats all over the country. A total of 88,000 questionnaires were returned.