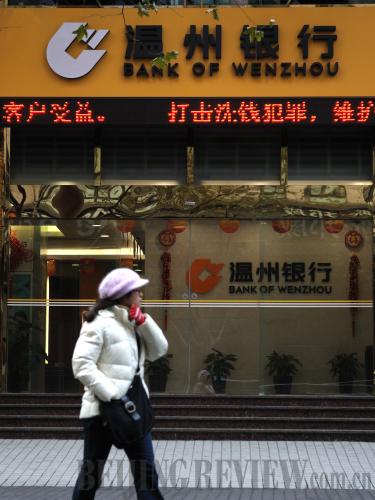 INVEST ABROAD: A person passes by a branch of the Bank of Wenzhou. Wenzhou, Zhejiang Province is the boomtown of China's private economy and in January, the city launched a pilot program to allow its residents to invest in overseas non-financial markets (CFP)
Actually, the bond yield of some European countries hit by the debt crisis is rising significantly, and is far higher than that of the U.S. Treasury bonds.
Liu Yuhui, a researcher with the Institute of Finance and Banking at the Chinese Academy of Social Sciences, said China's helping hand to the euro zone during its most difficult time is in effect bottom fishing for cheap euro assets, and buying euro assets will also lay a solid foundation for the future China-Europe economic and trade relations.
CIC's new target
In addition to SAFE's $2.8 trillion in foreign reserves, a small portion of the foreign reserves is managed by China Investment Corp. (CIC), the country's sovereign wealth fund. In 2007, CIC began operation with $200 billion in registered capital. CIC's strategy is different from SAFE's. It is inclined to invest in projects and assets with high risks and high yields.
At present, CIC manages $300 billion. Its 17-percent stake purchase in Canadian energy company Teck Cominco Ltd. in 2009 has brought $2.5 billion in yield for CIC, Donald R. Lindsay, President of Teck Cominco told China Business News. Last November, CIC bought a 7.6-percent stake in General Growth Properties Inc., the second largest shopping mall operator in the United States. Early this year, CIC joined forces with New York's AREA Real Estate Finance Corp. to buy a preferred equity stake in 650 Madison Avenue, the 27-story building that houses the headquarters of Polo Ralph Lauren Corp., said Bradford Wildauer, AREA's President. The U.S. property market has dropped a lot from its 2006 peak and analysts believe it may be a good time for CIC to invest there.
Private investment
The latest change in the Chinese foreign reserves policy was a move to allow residents to invest directly in overseas markets announced by the government of Wenzhou, Zhejiang Province, which is home to the most robust private economy in China.
At the beginning of this year, Wenzhou Foreign Trade and Economic Cooperation Bureau announced the pilot program of allowing its residents to apply for investment in overseas non-financial markets, including the Hong Kong Special Administrative Region, with single investments capped at $3 million and annual investments capped at $200 million per person. All investments need to be approved by the bureau.
"I believe most of the individuals applying for overseas investment are operating small local enterprises. With $200 billion, you can buy factories, open restaurants and shoe plants in any foreign countries," Ling Lanfang, Chairman of Silk Road Holding Group Co. Ltd. based in Zhejiang, told Economic Information Daily.
It's estimated that private capital amassed by Wenzhou residents has exceeded 600 billion yuan ($90 billion).
Ling said the government intends to encourage private foreign capital to adventure in the international market, to reduce the yuan counterparts of the foreign currencies and alleviate the pressure on money supply.
By allowing this pilot program, the decision makers are also sending signals of gradually opening up the capital account under the balance of international payments, he said.
In addition, after the international financial crisis hit in 2008, many large state-owned enterprises (SOEs) responded to the Central Government's "going out" strategy by taking on international mergers and acquisitions. But small enterprises lag behind large SOEs in overseas investment.
Ling said the program will, to some extent, encourage more Wenzhou enterprises to invest in overseas markets.