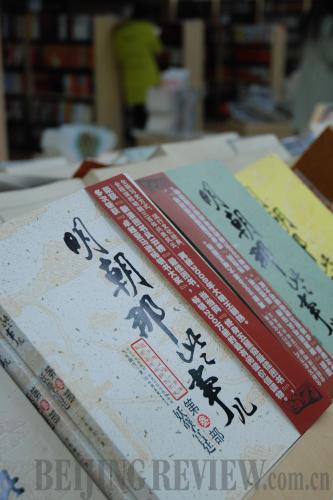 REAL HIT: A series of seven books, The Story of the Ming Dynasty, has even set a Chinese record, selling more than 5 million copies (CFP) 
In a world bursting with every kind of digital toy and modern convenience, many people find comfort going back in time to a simpler era. Or at least that's what book sales suggest.
The Real Story of the Tang Dynasty by Moxiang Manlou, published in December 2010, is a best seller in Beijing along with his two previous books about the Tang Dynasty (618-907). But they are just part of a larger trend.
The best seller racks of many bookstores feature a wide variety of novels about China's dynasties. A series of seven books, The Story of the Ming Dynasty, has even set a Chinese record with sales of more than 5 million copies—a marvel in the Chinese publishing industry.
Different goals
Ni Liang, who uses the pen name Moxiang Manlou, is a graduate of Renmin University of China in Beijing, with a major in history. In 2008, before writing his Tang Dynasty novels, he published another set of history books named Those People in the Han Dynasty.
Ni said Chinese people know more about the Han (202 B.C.-A.D. 220) and Tang dynasties—the two most prosperous in China's history—than any other. However, Ni said his goal in focusing on these dynasties was not to change people's impressions of famous historical figures or explore hidden stories.
"I just want to show how history gets recorded in this way, not the other way," said Ni.
Ni used the Tang Dynasty as an example: "A lot was written about the first emperor of each dynasty and so they became the most important emperors in China's history," Ni said. "But the Tang Dynasty is different. People nowadays know much more about Emperor Li Shimin, who is actually the son of Li Yuan, the first emperor of the Tang Dynasty."
Ni used his first book to explain the second emperor's popularity. "What we should know is not only the stories of history, but also how history becomes what we see now."
Ni's viewpoint is echoed by Shi Yue, author of The Story of the Ming Dynasty. In March 2006, Shi started to post blogs about Ming Dynasty (1368-1644) stories under the pen name Dangnian Mingyue. Within just two months, his blog had attracted 1 million followers. In September 2006, the first book in The Story of the Ming Dynasty series was published by the China Friendship Publishing Co. and became a hit.
Many readers like his book due to its humorous tone. "But it is me who is humorous, not the history," said Shi in an interview on China Central Television (CCTV).
Shi said many famous people in the Ming Dynasty had vivid stories, but the officials in charge of recording history gave very limited space to these people, making it impossible to provide an accurate picture of those days.
Shi, who became interested in history as a child, has read many ancient Chinese books. In 2006, he chose the Ming Dynasty as his subject since he felt it was more misunderstood than others.
Shi, a civil servant in the Bureau of Customs in Shunde, Guangdong Province, has led a double life since his first book was published. During the day, he is a civil servant; at night, he spends four to five hours writing his blog.
"I don't write for money since I have a stable job that ensures me a good income," said Shi. "I write for fun and I didn't expect this could be published or could become popular so quickly."
Yuan Tengfei, a high school history teacher from Beijing and the author of What Is History?, has a more typical author's biography. He is well-known for giving lectures on CCTV's Lecture Room and his teaching style has been praised by high school students.
From August 2009 to July 2010, Yuan published four books in his What Is History? series. His books not only cover Chinese history but also world history.
A common thread
One common thread among the current crop of popular history books is their humorous and easy-to-understand style. Some even use words popular from the Internet words.
"I don't think it is a proper way to write history," said a netizen with the name of dudubear. "[The authors] put more effort into how to make their writing funny than providing the facts."
Guo Lianlei, a graduate student in the Department of History at Peking University, said he found a lot of mistakes in these books.
But Ni doesn't worry about mistakes.
"People always try to determine whether the stories in the history books are loyal to the facts or not," said Ni. "I think this is very ridiculous. What are the facts of history? Even if you were there, you cannot tell the facts. As long as people are involved, it is hard to say what the real facts are since there are a lot of complicated elements involved. What's more, the history that comes down to us was recorded by ancient officials, making the facts more obscure."
Yuan said teachers should bring their own feelings to the teaching of history. "If we have no emotions, the students won't be touched by history. Students nowadays already suffer a lot from the heavy burden of homework and exams. I want them at least to have fun in history class."
Shi has his own reason for writing history with humor.
"I think many people don't like reading history because history is not pleasant to read," said Shi. "You hardly ever see a happy ending, such as can be created in movies or novels."
Shi said when he reads history, he feels he is right there with the ancient people. He struggles with their misery, and cries and laughs with them.
"Reading in that way is heavy. That is why I use such a humorous style in my books," said Shi.