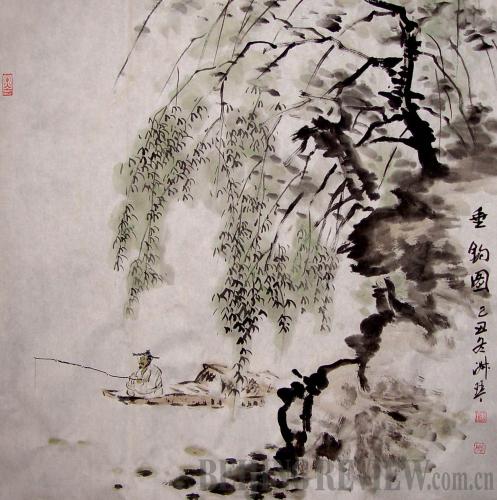 A Chinese painting on fishing (FILE) 
Chinese paintings are difficult for Westerners to understand and appreciate. Part of the problem lies in the fact that philosophical paradigms for Chinese aesthetics are based in Taoist and Confucian thought. Western art, in contrast, has been greatly influenced by classical and Christian paradigms.
Clearly, painting, like other forms of art, must be interpreted within the cultural semantic systems that generate the art work. Chinese painters have for centuries used a specific sign system that requires both insiders and outsiders to be knowledgeable regarding ancient Chinese Taoism and Confucianism. The translated Tao Te Ching (The Classic of the Way and Virtue) remains a key resource to Taoist thought for foreigners; Confucian classics are readily available in translation as well.
"I will try to enlighten you regarding some basic fundamentals of Taoism, as they relate to Chinese landscape painting," said Yang, when I asked him about Chinese landscape painting aesthetics.
"Taoism's core postulates certain ideas about the nature of the universe and the best path for humans to follow. Taoist sages believed that the universe was created by Something Great, and whose nature remains mysterious, beyond understanding, and beyond words."
"That sounds like Jewish and Christian conceptions of God," I remarked.
"Yes, but there are significant differences, so please listen," he replied. "Taoists believed that the Absolute had a spirit of Motherhood, which moved it to create, using two agents of creation. Westerners know this as yin and yang. They operate by tensions of polarity, and there is always a dynamic interplay between positive and negative energies, much like male and female forces."
"The female is yin and the male is yang?" I asked.
"Correct," he said. "Female power is fluid, soft, open, receiving, empty and dark. Male is hard, assertive, forceful, and light. In landscape painting, yin female force can be seen as a low and quiet valley, the fluidity of water, or the flexing of bamboo. In contrast, yang male force is action: it's bright and hard: mountains or bamboo standing up rigidly."
"Are there any other differences between Taoism and Christian philosophies?" I asked.
"Yes," Teacher Yang replied. "Significantly, the Absolute One is mysterious but serves the good of all living creatures. It asks nothing in return, and offers no favoritism. This sophisticated concept is very different from Christian, Jewish and even Islamic thinking."
"And regarding painting?" I inquired.
"You must look at Chinese landscape painting with Taoist eyes to interpret clearly," Yang said. "Feel the thrust of valley, mist, water, and dark earth—all yin, and note how they interact with mountain, stone, and bright sky—all yang. "Note the color contrasts, and watch the way they blend in a picture."
"Yin and yang are types of polar opposites?" I asked.
"Correct," he replied. "Moreover, Chinese aesthetics has two kinds of important cycles. One we may call the ontological cycle of things waxing and waning—the phases of seasons, or of the Moon, for example. Western people do not have a good sense of this constant departure and return in matter, but it is embedded in Chinese thought, in yin and yang.
The second cycle is the wheel that revolves humans, nature and heaven. This concept is Confucian. He honored the presence of Heaven and the Mandate of Heaven, and he also focused on how men and women should live correctly. In brief, Heaven advances on Earth, while humans live out their lives, and nature lives out its cycle as well. Heaven flows downward, seeking perfection, which cannot be fully achieved without the proper behavior of mankind, who are encircled in nature. Few Christian philosophies require men to seek salvation by good works and brotherly love—but Taoist thought gives man one third responsibility for heavenly perfection."
"How does this apply to landscape painting?" I asked.
"Chinese painters depict scenes of people engaged in proper human tasks—fishing, meditating, etc.—to portray the idea that if people do not find and follow their proper wisdom and goodness, the universe goes out of balance."
And other objects?" I asked.
"Each organic thing portrayed has an essence, created and sustained by yin-yang intertwining. Ideally, all things enjoy a harmonious, cosmic brotherhood. This mystical relationship between all things and creatures is lacking in most Western thought, although St. Francis understood it."
"In the sense that everything contains divine logos?" I asked.
"Correct," Teacher Yang said. "The reality of cosmic friendship is obvious in Chinese landscapes: there is a consonance of visual forms. Another fundamental trait is the repetition of basic forms. Each thing: a mountain or a crane, for example, has its own unique essence, but it is connected to the other by this brotherhood and the interweaving of yin and yang. Now let's go look at Chinese landscape paintings."
"Great!" I replied.
The writer is an American living in Beijing