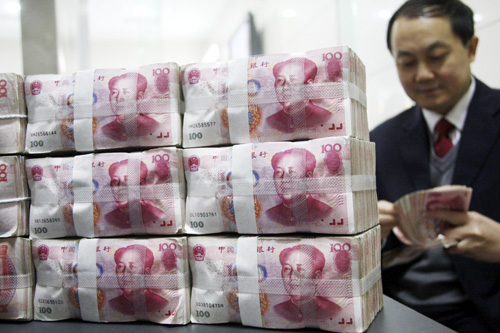 MORE MONEY, MORE INFLATION: Bank staff of Hai'an, Jiangsu Province, counts money. Facing excess liquidity, China's central bank is tightening monetary supply in an effort to strengthen macro-prudential regulation (XINHUA) 
China's central bank is trying to manage surging liquidity, reflecting its resolution to curb inflation and its orientation toward macro-prudential regulation. But how will macro-prudential regulation be implemented? Pan Zhengyan, a researcher at the Shanghai Academy of Social Sciences, shared his views on this issue in an article in Shanghai Securities News. Edited excerpts follow:
The People's Bank of China, the central bank, has given a clear signal to the market that it has its eye on market liquidity, by raising the reserve requirement ratio twice and interest rate once within a month (from December 20, 2010 to January 20, 2011). Its interest rate hike on December 26, 2010 showed the money regulator's macro-prudential stance. It warned commercial banks not to make heedless loans in 2011.
However, the 0.25-percentage-point interest rate hike is not sufficient to force banks to curb lending and it is still not strong enough to scare companies away from borrowing from banks. However, the rate hike shows the monetary policy's clear intention, i.e. to manage people's expectation of inflation.
Last November, the consumer price index (CPI), a barometer of inflation, rose 5.1 percent compared with the same month in 2009, making overall price increases an impending scenario for Chinese residents. Soon afterward, the government adopted a series of counter-inflation measures that led to a noticeable drop in the price of consumer goods, especially basic living necessities and vegetables. Under such circumstances, some analysts contended inflation was over. Plus the fact the banks curbed lending at the end of last year, the market expected the central bank to ease money supply. The voice for inflation control was seemingly weakened.
But the central bank's stance in curbing inflation has never changed. As a matter of fact, potential inflation pressure still looms for these reasons: First, food price hikes will continue to be the major force driving future price hikes. Food prices are affected not only by seasonal factors but also by market expectations of further price rises in the future. Second, fast increases in income have also raised people's expectations of price hikes. Income increases, on the one hand, can effectively raise consumers' ability to buy, but they can also raise the prices of consumer products. In recent years, per-capita consumer spending by urban and rural residents each rose about 7 percent annually. Rising demand naturally led to rising prices. Third, imported inflation pressure still lingers and will not disappear in the short run.
Therefore, the central bank, as the "lender of last resort," must give a clear signal to the market that it will firmly contain inflation expectations.
Monetary prudence
In carrying out monetary policy, the central bank should first follow the requirements of macro-prudential regulation.
Recent hikes in the reserve requirement ratio and interest rate show monetary policy makers have put the principle of macro-prudential regulation at the forefront, even at a time when the market feels a shortage of money supply. The central bank is determined to strictly adhere to macro-prudential regulation this year.
For a long period of time, China's credit lending has displayed certain features both in periods of tight and loose monetary policies. From 2007 to 2010, banks lent much more at the beginning of the year than at year's end. This pattern suppressed the effectiveness of monetary policy. And if credit lending follows the same routine this year, high inflation expectations will be unavoidable.
Second, the interest rate hike and increase in the reserve requirement ratio reflect the central bank's countercyclical policy orientation. It is reasonable to enhance countercyclical measures when the economy fluctuates sharply; and to reduce countercyclical effects during stable economic periods.
This year, the central bank's monetary policy will resume balanced readjustment and normal control. Balanced and normal monetary policy control means monetary policy should reduce, rather than exacerbate, economic fluctuations. It should also reduce sharp fluctuations in money and credit supply, as well as maintain balanced growth in market capital and the relative stability of economic development. The central bank should implement countercyclical macro-prudential regulation, including supervision over the amount and quality of capital in financial institutions, especially large ones.
To curb the countercyclical lending impulse of financial institutions, the central bank's macro-prudential regulation usually suggests a countercyclical capital buffer mechanism. In 2008, the China Banking Regulatory Commission ordered all commercial banks to keep 2 percent of capital as buffer capital. In 2009, it required certain large commercial banks to increase their countercyclical capital buffer by another 0.5 percent. Meanwhile, the central bank adopted differentiated reserve requirement ratios for different banks. Its requirement to raise the reserve requirement ratio of certain large commercial banks with system-wide importance can help suppress the cyclical credit impulse of the whole banking industry.