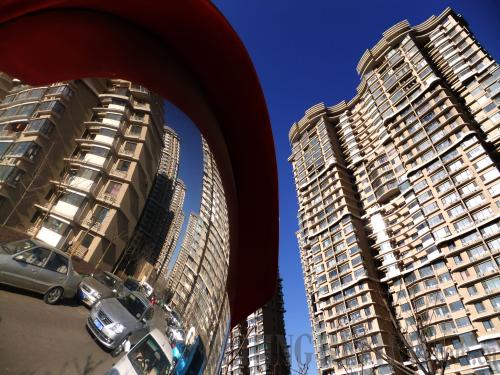 RED HOT: A new residential building complex in Tianjin's Binhai New Area (CFP) 
While his friends were celebrating the Spring Festival—China's most important holiday, which fell on February 3 this year—Yu Mingzhi was trying to decide whether to continue with the purchase process for the second-hand house for which he had already deposited 20,000 yuan ($3,040). A series of measures targeting the property market that were announced by the State Council on January 26 finally changed Yu's mind.
The measures, which include a 10-percent hike in the minimum down payment on a second home, a change in the transaction taxation basis, price-control targets and home purchase limits, are considered the most forceful attempt yet to spur a cooling of the sizzling property market.
"It will take time for me to finish my mortgage application and ownership transfer. I am afraid I will be one who falls into the property purchase limit category, since I am buying my second home and I am not a permanent Beijing resident," said Yu.
The measures are a continuation of last year's housing market adjustment policies. The State Council issued 10 rules on April 16, 2010, stipulating that down payments for second homes must be at least 50 percent and mortgage rates for second homes should also be raised to 1.1 times the benchmark lending rate. On September 29, 2010, the government ordered all first-home buyers to make a down payment of at least 30 percent, up from the previous requirement of 20 percent. In addition, the government also required commercial banks to suspend loans to third-home buyers.
To continue solving urban housing problems, further curb speculative property purchases and promote the healthy development of the housing market, the State Council released the eight new measures on January 26 after an executive meeting presided over by Premier Wen Jiabao.
The new policies are designed to let the air out of the housing market, said Yi Xianrong, a researcher with the Institute of Finance and Banking under the Chinese Academy of Social Sciences.
"It is not realistic to expect housing prices to plummet in a short time. But it is a good beginning," said Ye Tan, an economic analyst. This is because China's housing problems are very complicated, as land financing, monetary policy and taxation policies are all involved.
Two days after the measures were announced, the long-awaited property tax was unveiled in Chongqing and Shanghai, sending an even stronger signal that the government has its eye on the housing market.
Chongqing will impose taxes ranging from 0.5 percent to 1.2 percent on high-end properties, based on the transaction value. Shanghai will levy a 0.6-percent tax on second homes—based on the total area—bought by local residents and on new homes bought by non-residents.
More heavy blows to the housing market followed the Spring Festival holiday (February 2-8). The People's Bank of China, the central bank, on February 9 raised the benchmark one-year deposit and lending rates again by 0.25 percentage points. On the same day, the Ministry of Housing and Urban-Rural Development announced a raise in the Public Housing Fund mortgage rates for home buyers. The rate for loans with a maturity of five or more years will be raised from 4.3 percent to 4.5 percent.
Say no to speculation
It will be harder to make a profit from housing investments than before, said Zhang Yang, a real estate agent with Beijing Yingu Property Management Co. Ltd.
"Take a 3-million-yuan ($456,000) apartment in Beijing for example: A 10-percent increase in the down payment means the buyer has to pay 300,000 yuan ($45,600) more," Zhang said.
According to the State Council statement, houses sold within five years of purchase will be charged a transaction tax based on selling prices, instead of the difference between the buying and selling prices in the past.
The new taxation basis will also make the cost of housing speculation higher than before, according to Zhang.
"Take the apartment above as an example again: If the house was purchased at the price of 2 million yuan ($304,000) and sold at 3 million yuan within five years of its purchase, the transaction tax in the past would be 5.5 percent of the 1-million-yuan ($152,000) difference between the buying and selling prices—55,000 yuan ($8,330). But under the new policies, the transaction tax would be 165,000 yuan ($25,000)," said Zhang.
Since buyers are responsible for all taxes, this will definitely dampen housing speculators' mania, said Zhang.
Furthermore, no homes could be sold to permanent residents with at least two homes or to non-permanent residents with at least one home, said the statement.
"This is the stiffest measure regarding controlling housing demand and demonstrates the government's resolve to achieve the goal of housing market regulation," said Zhang Dawei, an analyst with Beijing Centraline Property Co. Ltd.
Several cities have already set property purchase limits last year. Beijing was the first to announce such rules last year when it limited families to one new apartment purchase, and Shanghai followed suit last October.