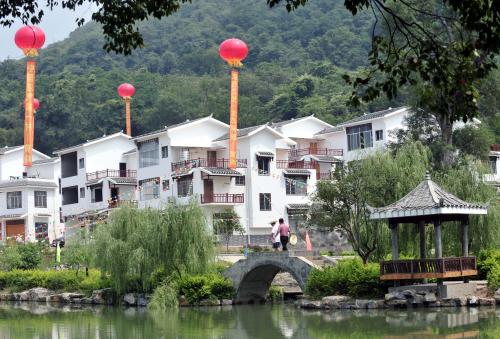 NEW COUNTRYSIDE: New homes of farmers in Huangling New Village in Gongcheng Yao Autonomous County, Guangxi Zhuang Autonomous Region. The village has developed eco-friendly agriculture since the 1980s (CHEN RUIHUA)
The belief that anyone can live a better life in the United States through hard work is called the American Dream. Many European settlers were drawn to the new continent by the American Dream.
Is there a Chinese dream? Yes, there is one, and there must be one. The Chinese dream is what has propelled more than 1 billion Chinese people to build an independent, prosperous and strong country.
New Countryside
China is transitioning from an agricultural to an industrial society. Hundreds of millions of farmers, middle-aged or seniors, devote all they have to their children's education so that they will be able to lead better lives, whereas younger ones yearn to live in cities.
Currently, about 200 million rural residents have migrated into cities, and an additional 400 million to 500 million are going to do so. Their dreams are to find well-paid jobs or start up their own businesses. They want to rent a decent place there, and own homes in the city in a few years.
Rural migrants hope to bring their families to cities, and let their children enjoy equal education as urban children. And they hope to be covered by medical insurance and pension programs that are the same as city dwellers.
Middle-aged or senior rural residents staying in their hometowns also dream about a new rural life. They would like to get satisfactory pay for their work, as well as adequate medical and elderly care. They would like to enjoy basic public services and public goods delivered by the government, such as gas, water, electricity, transportation, waste treatment and security.
They would like to be able to chat over the phone with their children living in cities and meet their children every year, and hope to retain some cultural traditions.
Healthy Urbanization
Now, 30 percent of China's population, or about 400 million people, have urban residence status. As more rural residents move to cities, it is predicted that by 2040, urban population may reach 1.2 billion, or 80 percent of the national total.
These people's efforts to realize their dreams are a strong driving force for China's economic and social development over the next 30 years.
- Housing
Owning a cozy and decent home is perhaps the prime dream of every urban household. Currently, there is a gap between the supply and demand for urban housing. In 2010, the total area of urban housing was 11.2 billion square meters, which averages to 17.8 square meters per person, assuming that the urban population reached 640 million at the end of 2010.
If each of the 200 million rural migrants occupies a living space of 20 square meters and each urbanite 30 square meters, they need a total of 17.2 billion square meters. So, housing supply falls short of demand by 6 billion square meters.
The solution for the government is to have the market supply all the housing for high-income people and most of the housing for middle-income people. The government should keep the growth of housing prices below that of income.