COLLECTING OPINIONS: On March 6, Han Zhaoshan (third left) and Gao Baoyu (second right), two NPC deputies from northeast China's Liaoning Province, talk to locals in Beijing about wealth distribution (LIU WEIBING)
"Our traditional economic growth mode has obvious defects in income distribution, which allows the state revenue grow faster than household income," said Wang. "What is more important is to improve the government's public service capacity. The government's function should transfer from achieving GDP increases to offering good public services to residents and setting up a sound social security system."
Results from an online survey on income distribution reform show public concerns on this issue.
A netizen calling himself Ceaser said prohibiting out-of-book income of high-income earners is very important, since it is already huge but is not taxed.
Another netizen, Qiushui, suggested the income of civil servants should be decided by whether people are satisfied with the service they are offered.
Tax overhaul
Before the opening of this year's sessions of the NPC and the CPPCC National Committee, the State Council, China's cabinet, decided to raise the cut-off point of the personal income tax but hasn't set the new standard yet. NPC deputies and CPPCC National Committee members had discussions about this.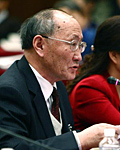 REFORM TAXATION: CPPCC National Committee member Li Chongfu calls for a higher cut-off point of the personal income tax to reduce middle- and low-income earners' burden (YAO DAWEI)

"It will be a milestone for income distribution reform," said Li Chongfu, a CPPCC National Committee member and a professor at the Chinese Academy of Social Sciences. "For so many years, China has adopted a low cut-off point of the personal income tax. It is lagging far behind the economic development."

China began collecting personal income tax in 1980 and set a cut-off point at 800 yuan ($123). Since then, the standard has been adjusted twice, rising to 1,600 yuan ($246) in 2006 and 2,000 yuan ($308) in 2008.

CPPCC National Committee member Shen Zhongyang thinks even 3,000 yuan isn't high enough.

"The cut-off point of the personal income tax should be raised to 4,000 yuan ($615) or 5,000 yuan ($770) a month," said Shen. "The growth of China's tax revenue always outpaced that of per-capita GDP and people's income. Raising the cut-off point can boost domestic spending and, ultimately, make people wealthier."

Wang Yufeng, a CPPCC National Committee member, suggested different regions should adopt differentiated cut-off points of the personal income tax.

"It should be decided according to local development levels and people's income," said Wang. "We should enlarge the difference of income tax categories. Those who earn more should pay more tax. This will help narrow the gap between rich and poor."

Cui Yongyuan, a CPPCC National Committee member and a presenter at national broadcaster CCTV, said not only different regions, but different industries should adopt different standards.

"Even if a miner's income is higher than average, I don't think we should collect tax from him, since his work is so risky," said Cui. "At least I can be 100-percent sure that I can get out of the studio safely every day, but miners might not. They risk their lives for the money. Why should the state still tax them?"

"A fair income distribution system cannot be achieved by adjusting personal income tax alone," said CPPCC National Committee member Ou Chengzhong. "More policies are needed. For example, reducing taxes for small enterprises will encourage private business startups and create more jobs, which will help their owners and employees to have stable income."