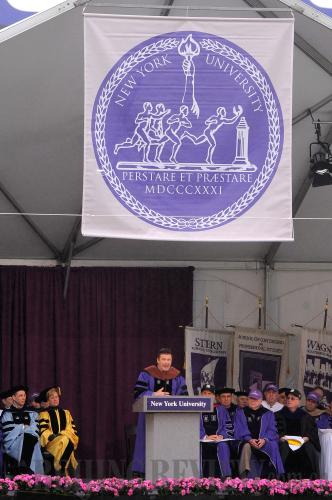 POOL OF TALENT: New York University's graduation ceremony on May 12, 2010 (CFP)
China's Ministry of Education on January 19 gave a green light to the establishment of a division of New York University (NYU) in Shanghai. NYU in Shanghai, the American university's second degree-granting campus abroad, will be located in Pudong New Area. Local East China Normal University (ECNU) is the Chinese partner of the joint university.
Yu Lizhong, President of ECNU, said NYU in Shanghai was going to be a non-profit, private institution and an independent legal entity registered in China.
"We train students who can study, work and compete in different cultures," Yu said. "Global perspectives and cross-cultural communication skills are very important."
Mixed education
In the 2011-12 academic year, NYU in Shanghai plans to launch an executive education program, which will not grant degrees. A degree-granting, professional Master's program will begin in the 2012-13 academic year, according to NYU's campus newspaper, Washington Square News.
The courses offered by NYU in Shanghai would be a blend of the East and West, Yu told Guangzhou Daily. They include courses such as finance, economics and applied mathematics, all strong suits for NYU.
"Other courses needed to establish Shanghai as an international financial and transportation center will also be taught," he said.
The faculty will also be a mixture. At least one third of its teachers will come from NYU. Teachers from ECNU will teach courses such as Chinese history and culture.
"The remaining teaching staff will be recruited globally in accordance with the selection criteria for NYU faculty," Yu said.
Undergraduate students at NYU in Shanghai will spend one or two semesters overseas to gain international experience. They will be granted a diploma from NYU in Shanghai and a degree from NYU upon completion of their studies.
NYU in Shanghai will be managed in a model similar to NYU rather than Chinese universities, Yu said.
The opening of one university could not bring fundamental change to China's education system, yet NYU in Shanghai's management and teaching model would shed light on higher education reform in China and globalization of indigenous institutions of higher learning.
Ding Xiaohao, a professor at Peking University's Graduate School of Education, said NYU in Shanghai, if well run and responsible for its own profits and losses, should be a pretty good choice for Chinese students.
Favorable environment
China welcomes the introduction of quality educational resources abroad and encourages Chinese schools to do a good job in running joint schools or joint projects in cooperation with foreign partners, says the Medium- and Long-term National Educational Reform and Development Plan (2010-20) released last July.
Chinese and foreign universities began cooperation in running schools in the early 1990s, as the country opened wider to the world. After China entered the WTO in 2001, it has become more involved in the international economy, and needs more people who understand the world. On the other hand, China's large market also lures foreign universities.
In 2003, the Regulations on Chinese-Foreign Cooperation in Running Schools became effective, spelling out detailed requirements for such schools.
Then, cooperation between Chinese and foreign universities gradually expanded, as famous foreign universities and teaching programs came to China and joint education became more accessible to students and to China's western regions, said Huang Jianru, a scholar with the Higher Education Research Institute of Xiamen University in Fujian Province.
Statistics from the Ministry of Education show as of July 2010, China had approved more than 400 China-foreign cooperatively-run schools or programs at or above the undergraduate level.
Most of these schools, however, are run as colleges or programs under existing Chinese universities.
Only a few operate as independent universities with legal entity status. The first of its kind is the University of Nottingham Ningbo in Zhejiang Province, which is run by the University of Nottingham in the UK with cooperation from the Zhejiang Wanli Education Group.
It was set up in 2003, when Yang Fujia, a famous physicist and former president of China's prestigious Fudan University, served as the chancellor of the University of Nottingham. Yang said he hoped to bring quality Western education to China.
The University of Nottingham Ningbo is managed along the lines of the model of its parent school. Instructors of key courses are from the University of Nottingham, and other faculty members are recruited globally following the criteria of the British university. The teaching quality is also assessed by the standard of the University of Nottingham.
Xi'an Jiaotong-Liverpool University located in Suzhou, Jiangsu Province, is another such university. The university, officially established in 2006, is jointly run by Xi'an Jiaotong University in Shaanxi Province and the University of Liverpool in the UK.
The university offers undergraduate degrees in the fields of science, engineering and management, and awards its own Chinese degree and a degree from the University of Liverpool.
More well-known foreign universities are interested in coming to China. Last year, Duke University in the United States signed an agreement with Kunshan City in Jiangsu Province on building a campus there.
Harvard University also unveiled the Harvard Shanghai Center last year, which marked a new stage in its academic engagement in China.
In the mean time, local governments in China also intend to set up joint universities.
Possible challenges
In addition to what and how to teach the students, a private university needs to think about the sources of its funding and students and job prospects for its graduates.