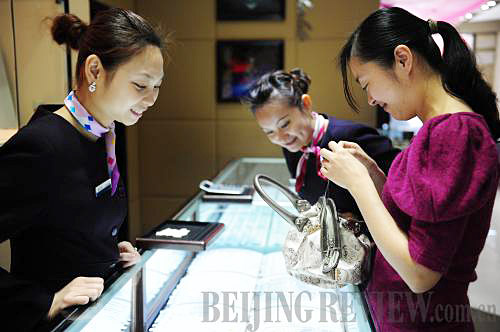 HER ECONOMY: On March 7, one day before International Women's Day, a customer happily selects jewelry in Hainan Province (MENG ZHONGDE)
The Report on Women's Travel Trends in 2010 was recently released by Qunar.com, a famous Chinese online travel website. The report shows the women's travel market has huge potential as more Chinese women use their increased incomes to enjoy life. In 2009, the average expenditure on travel for women in China was 3,584 yuan ($535). In 2010, the figure increased by 20 percent to 4,300 yuan ($642). For men, the 2009 figure was 4,108 yuan ($613), while the 2010 figure was 4,482 yuan ($669) in 2010, an increase of only 9 percent. The report also said more than 65 percent of travel-related buying decisions are made by women.
Women now have a stronger desire for travel, with educated and career women having a particularly strong interest. Travel can meet their need to relax, experience change, expand their horizons and improve themselves. Besides traveling in China, more and more Chinese women choose to spend their vacations abroad. The most favored foreign destinations for Chinese women are: Paris, the Maldives, Venice, Rome, London, Tokyo, Seoul and Bali.
Drivers
Women are not only the leading buyers of everyday products, but also are buyers of big-ticket items, such as cars.
The latest survey by Sinomonitor, a market research company in China, shows that 51.4 percent of household cars in China are owned by women. Women drivers account for 25 percent of Beijing's 3.3 million drivers. This trend is also clearly seen in big cities like Shanghai, Hangzhou and Guangzhou. Data from several auto retailers show sales to women have reached 30 percent of the total number, and this number is expected to grow quickly in coming years.
In addition, even if women don't make independent decisions about family car purchases, their opinions are crucial. Most promotional activities and salespeople understand this principle and make sure they understand "her demand" in order to close the deal.
Comfort and safety are women's primary concerns when buying a car. Looking good is also a vital element in women's purchasing decisions, but complicated auto technologies are less important. In addition, after-sales service is important for women since they are more irritated by car breakdowns than men.
House owners
Having their own houses also represent the situation in today's China and a motto for many career women. For women, a house of their own can give them a sense of esteem, independence and safety. Also, it is a long-term investment that may yield unexpected economic gains.
An investigation conducted by the research department of Centaline Property Agency in Beijing shows the percentage of houses owned by single women reached 10.2 percent in 2010, compared to 8 percent in 2009.
"The percentage of houses owned by women will gradually increase. First of all, women are more and more independent nowadays. Second, in those families with only one child, parents will buy houses for their children, no matter whether they are boys or girls," said Zhang Dawei, an analyst of the company.
A report about female consumption in China released by Ernst & Young, one of the largest professional services firms in the world, shows that 23 percent of married women can make independent decisions when buying houses and cars. The rest of them will make the decision after discussing the matter with their spouses, but women's likes and dislikes will have a vital impact on the final decision.
It's estimated by Mastercard that the total purchasing power of single women and married women with no children in China will increase to $260 billion in 2015, compared to $180 billion in 2005. While in "empty nest" families, the purchasing power of women will reach $150 billion in 2015, compared with $100 billion in 2005. These women consumers have good educational background and higher demand for brands of products.
In addition, single women are a consumer force that is more powerful. Big cities, like Beijing and Shanghai, are now filled with so-called "leftover women," who passed the prime marriage age, have more education and have high salaries but no boyfriends. Those "leftover women" are a more powerful consumer group, especially when it comes to clothes, cosmetics, travel, cars and even houses.