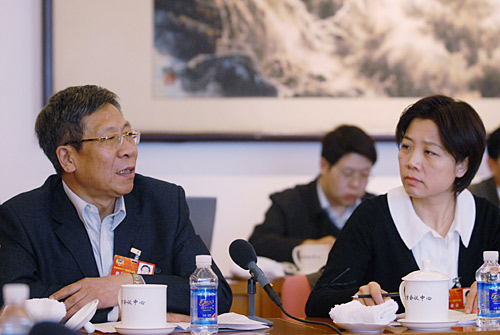 EXPRESS CONCERNS: Sheng Lianxi (left), a member of the Chinese People's Political Consultative Conference, speaks at a panel discussion on education on March 4 (WEI YAO)
Improving the community-level medical and health service system is also a good way to lessen the pressure on big hospitals. We should also encourage private investment in hospitals. Private hospitals could bring about competition with public hospitals, which will in turn improve the quality and efficiency of the country's medical service.
If public hospitals return to their original purpose of working for the public welfare, the relationship between medical workers and patients will surely be improved.
—Li Li, Director of the Health Department of Jiangxi Province, NPC deputy
Building Top Universities
Speeding up the effort to build world-class universities was mentioned in the government work report this year. But in my opinion, building world-class universities should not be done too quickly.
We should improve in a stable way the overall levels of all universities. It is not realistic to achieve such a goal in a short time. Building world-class universities should be a step-by-step process.
We have learned too many lessons during our efforts to modernize universities, and we cannot go on making similar mistakes any more. Education is the foundation of national development and social progress, and it is the basic means of improving national quality. It has been found that not all the mergers of universities and colleges were good for their development. Some mergers have already caused irreparably bad consequences, creating problems for the development of universities.
Advocating building world-class universities may lead to many more misunderstandings, and therefore we must be clear about the purpose and direction of the program. First, we should make it clear that the concept of "world-class universities" refers to academic quality, not their scale. It is true that even China's top-ranked universities are ranked relatively far down the list of internationally renowned universities. We should admit the truth but should not underestimate our own capability; we should try to catch up with world-class universities but should not be unrealistic. We should solve basic and realistic problems first, step by step.
—Zhao Yuan, a research fellow with the Chinese Academy of Social Sciences, CPPCC member
Extending Holiday
I propose to extend the Spring Festival holiday from the current three days to 10. The adjusted holiday would be prolonged from current seven days (including two weekends) to 16 days (including three weekends).
The current Spring Festival holiday is too short for family reunions. It is necessary to make the Spring Festival holiday longer as it is the most important holiday for Chinese people.
With hundreds of millions of people on the move during a short time span, the holiday also puts tremendous pressure on the public transport system and hugely increases the cost of the management of the public transport system.
The Spring Festival this year, which fell on February 3, involved 2.85 billion trips in China. The difficulty in getting a train or bus ticket had therefore forced many migrant workers to return to their places of work at least a week early after visiting their families in rural areas. Thus, extending the holiday would ease the burden on public transport system and strengthen family ties.
If the holiday is extended to cover three weekends, it means the public could take a total of 16 days off and the migrant population could celebrate the Lantern Festival, which falls on the 15th day of the first lunar month, with their families. People would then have sufficient time to fully enjoy the traditional holiday with their families.
Meanwhile, a longer Spring Festival holiday could boost people's spending and help transform the manner of economic growth.
—Li Jing, Mayor of Meishan City in Sichuan Province, NPC deputy
Doing Away With TV Ads
I suggest that the news channel of China Central Television (CCTV) and local TV stations across the country should stop broadcasting commercial advertisements, so as to show fairness in news reporting and make these TV channels exclusively for news reporting.
Nowadays, radio and TV broadcasting and films are packed with more than enough advertisements, and commercial advertisements disproportionately outweigh public welfare-oriented advertisements, such as those on the smoking ban, and advocating social morality.
In other countries, there are pure news TV stations, like Japan's NHK, which does not broadcast any commercials. It's said that Chongqing Cable TV has recently announced the end of broadcasting commercials, thus committing itself to becoming the first public welfare-oriented TV channel in China. Since Chongqing Cable TV has already given us an example, isn't it necessary for CCTV to consider the advice of devoting itself to news reporting and getting rid of commercials? Isn't it also necessary for the local TV stations to consider stopping the broadcast of commercials?
Stopping the broadcast of commercials will prevent the media from being controlled and taken advantage of by businesses, which might even interfere with the fairness of news reporting. Finally, the public will find that channels without commercials are more trustworthy.
—Fang Ming, Deputy Director of the Broadcast Anchorperson Guiding Committee of China National Radio, NPC deputy