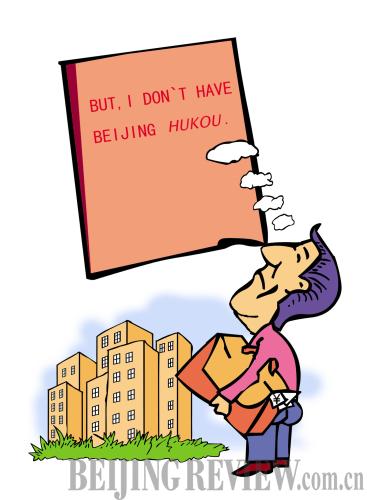 (LI SHIGONG)
Responding to the recent frenetic rise in house prices, the Central Government in January announced eight new regulations of the State Council, showing its determination to cool down the real estate market.
Consequently, more than 10 big cities have promulgated restrictions on homebuyers, most of which are directly related to hukou, or household registration. Hukou has now become one important tool for the government to cool down the property market.
The most stringent requirements are in the capital city Beijing. People who do not have a local hukou must have paid taxes to the municipal tax bureau for the last five years to qualify as homebuyers.
This hukou-oriented policy, as soon as it was released, caused wide discussion throughout society.
Supporters think society should look at this policy rationally since the capacity of large cities is limited. Furthermore, this policy mainly focuses on "speculative" housing purchases, and should therefore be effective in regulating the frenetic real estate market.
Opponents think, however, that tying home purchase restrictions to hukou is discriminatory to migrants, thus departing from the main direction of hukou reform and violating relevant laws.
Necessary
Li Kejie (China Youth Daily): The main target of restriction orders is ensuring the basic housing needs of local residents and suppressing "speculative" demand, so as to cool down the property market and control soaring housing prices.
People should look at this hukou-oriented policy rationally. The main direction for a civilized society is eliminating the obstacle of hukou and realizing free migration in the country. But we should also see that economic development in China, and social management in particular, is far behind the demand of economic exchange and the free flow of citizens. Many cities use hukou as a threshold for social resource distribution since they don't have any better choice.
As for the right of each citizen, although some people don't qualify as homebuyers in cities where they live temporarily, they still have the right in cities where they have a hukou. So theoretically, under the guidance of this restriction, all citizens have equal rights in terms of the total number of the houses they can buy in the country.
In all, when analyzing whether a policy is fair or not, we should see it as a whole rather than emphasizing one side of the situation and ignoring others.
Ma Yuecheng (blog.guandian.cn/user/mayaoch): The main purpose of home purchase restrictions is suppressing "speculative" behavior in the property market.
If the government doesn't restrict the number of houses people can buy, those who aim at gaining profit from the market will throw their money everywhere for investment and make a mess out of the housing market.
Soon after the release of the eight new regulations of the State Council, especially the specific regulation methods stipulated by different cities, the number of house purchase transactions has decreased and house prices are bound to fall to a certain extent.
From the eight new regulations of the State Council, as well as the pilot housing property tax programs in Chongqing and Shanghai, we can see that the government is determined to do something about the frenetic housing market.
These home purchase restrictions will last for a certain period of time, but will be a transition policy toward a more rational market, which will be more stable and rely more on laws. By then, it will make no sense to restrict housing purchases. Therefore, when the policy expires, the housing price won't go up since it's time for levying housing property taxes or other relevant taxes and instituting laws in the property market.
Unfair and discriminatory
Zhu Zhengfu (www.chinanews.com): In this round of housing purchase restrictions, hukou has become an important tool for further regulation.
The connection between housing purchase restrictions and hukou has added to the unfairness in society by dividing people into different levels and groups and is discriminatory to migrants in cities.
The household registration policy has led to an unfair distribution of social resources during the past decades since hukou has many additional functions, such as controlling children's education, employment, medical service and social insurance.
The main direction of China's current hukou reform is to reduce its additional functions. But tying hukou to housing purchase restrictions only adds to the unfairness of social resources distribution, which deviates from the main direction of the reform.
Hua Ming (www.bankrate.com.cn): Connecting hukou with housing purchase will bring about countless problems in society.
First, the profits from the housing market will be transferred to hukou management departments if the restriction policy continues. People will think of every way to get a local hukou if they want to buy houses in the city, for instance buying a hukou through unofficial channels. Buying a hukou doesn't sound strange to Chinese people. Twenty years ago, China experienced an era of buying hukou since owning a hukou meant better education and better work arrangements at the time. But it later disappeared along with the hukou reform. Now, with the new regulations, the wealth in the property market might be transferred to hukou management departments since under-the-table deals may happen.
Second, risks and potential damage will be caused by this policy. After hukou is tied to housing purchase, the happiest people will be those who don't possess houses, but do have hukou in the city. If migrants marry people with a Beijing hukou, the latter ones will legally own the house even if it's paid for by the migrants, since migrants in Beijing don't have the right to buy houses. Therefore, if a divorce occurs, people with hukou will have an advantageous economic status since their names are on the property ownership certificates, which is quite unfair.
Finally, hukou discrimination will be more and more severe, and it will be an unstable factor in society. In China, hukou policy is one means of social resource distribution, which has aroused countless queries from the public in the past. Along with economic development and hukou policy reform, hukou discrimination should have been reduced rather than increased. People who have hukou and don't have hukou in the same city, although paying the same amount of tax in the city, will enjoy very different treatment. It's a retrogression of China's hukou policy and is an unstable and unharmonious element in society.
Housing market regulations should be based on the overall economy in China and avoid regional discrimination. Housing purchase restrictions are strong medicine for cooling the property market in the short term, but will bring about more social and economic harm in the long run.
Xiao Yazhou (www.rednet.cn): This policy is a bad example of the planned economy. Restricting migrants reveals the incompetence of the city's public management. Justice and fairness should be the basic value underlying public policies and the true essence of public policies. The government should have certain respect for the law of the market economy and public opinion.
Wang Zhenyu (Shanxi Evening News): The newly released policies on housing purchases and car purchases in Beijing are apparently discriminatory to migrants.
The connection between hukou and housing purchase restrictions in many cities may be due to the following reasons: first, they want to look after the benefit of residents with local hukou; second, they think residents with hukou have made more contributions to the city than those who don't have local hukou; finally, they think it is migrants who push up the housing price.
In response, we can say that protecting residents with local hukou is local protectionism. Second, although residents with hukou have made contributions to the city, they have already enjoyed preferential treatment in many aspects such as the right of poor families to apply for low-income houses. Finally, using migrants as the scapegoat for soaring housing prices is unfair since many residents with local hukou also have more than two houses in the city and are the real force pushing up housing prices.
When initiating policies like this, two main principles should be considered and adhered to.
First, policies shouldn't violate the law, especially the Constitution. Even if there are enough good reasons for connecting hukou with housing purchase restrictions and treating people differently, we can't do so because we should treat the law with dignity.
Second, housing purchase restrictions shouldn't deviate from the main direction of hukou reform. It's evident that the hukou reform should aim at eliminating hukou discrimination and let each citizen enjoy equal rights in China. Deleting additional privileges attached to hukou is the main method for pushing the reform forward.