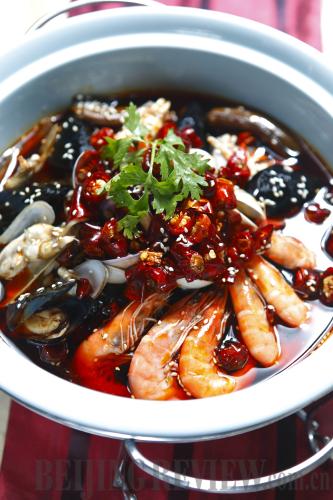 A Chinese dish flavored with chili peppers (CFP)
I've always enjoyed the vast diversity of Chinese cuisine. I travel frequently, and everywhere that I go, I find each region in China has its own specialties regarding food. As the famous French anthropologist Claude Levi-Strauss once said, "Food is good to think with." In China, as in other parts of the world, we can use plant food as a way to track history, because food history and world history are often intertwined. Moreover, food is an accessible and interesting topic for everyone. We all must eat, and certain foods help define our cultural identities.
Take the chili pepper, for example. This little fruit is eaten by over a quarter of the world's population every day; it is the most highly utilized spice and condiment in the world. Chilies are a product of the nightshade family, solanaceae, of the genus capsicum. In China, when we think of this food, most people think of Sichuan or Yunnan as the homelands of chili. But actually this robust little plant originated in the south Brazilian highlands. Between 5,000 and 7,000 years ago, these plants were first cultivated in South America; chilies eventually spread to the rest of the world via expanding trade after the Spanish and Portuguese conquered large tracts of what we now call America.
Before I go on to describe the chili's journey to China, whose routes may surprise some, I wanted to add that the chili is a very special kind of plant. It seems magical—because how else would it have become so popular with all the people in the world? The reason is that chilies are chemically addictive. I'm not kidding. When people eat them, their mouths come in contact with capsaicinoids (a kind of alkaloids). This chemical makes their mouths seem like they are literally on fire. In response, the brain releases endorphins, which are natural painkillers, just like morphine. In this way, people who eat chilies receive a "chili high." Even though the heat from the chili makes them drool, sniffle, and even cry while eating, people literally fall in love with the substance and always want more.
The peripatetic chili has traveled all over the globe. My home state New Mexico has annual chili festivals. Before 1492, however, no chilies existed in North America. Nowadays, in the United States, spicy Chinese food flavored with chilies is associated with Sichuan or Hunan dishes. But chilies are not indigenous to either province. So how did chilies get from Brazil to southwest China?
Most scholars accept the fact that Spanish and/or Portuguese traders brought chili to China, just as the Spanish brought it to the New World. But chili has a rather mysterious trajectory; it's not as clear as the more easily documented routes of maize, potatoes, tobacco, manioc, beans and tomatoes—other Mesoamerican plants.
In 1955, a Chinese scholar named Ho Pingti wrote a treatise called The Introduction of American Food Plants in China. He asserted that, along with the other plant foods listed above, chilies traveled similarly into China. They came via caravan routes from India through Myanmar and across west China. This makes sense, as Sichuan and Hunan employ more chili peppers than any other provinces.
However, other scholars have studied ancient Chinese newspapers of the 15th and 16th centuries. They found that the first recorded instance of the chili in China centers in Zhejiang Province—in east China. Apparently, the chili was not popular there, so it never became integral to Zhejiang cuisine.
Another interesting newspaper reference in the late 1600s discusses qinjiao, also known as fanjiao (foreign pepper) in Liaoning Province, located in China's far northeast. Scholars speculate that chili came to Liaoning via Korea, thanks to Japanese influence. In turn, the Japanese had received chilies from trading with the Portuguese.
In fact, chilies aren't mentioned in Sichuan until 1794—over 60 years after Hunan's first newspaper reference in 1684! And it isn't until the 19th century that Sichuan cuisine really adopted chilies. A similar late chili entry is true of Yunnan Province (1894). Yunnan borders Myanmar, so this means that Yunnan chefs did indeed receive chilies from an overland route originating in India.
China is a vast territory. It appears that the chili made several entries into China, at several different periods in history. Transnational foodstuffs are tricky subjects to examine. Regional flows, combined with differing local receptions, make the subject even trickier. We do know chili has a definite, strong personality. It is hardy, full of vitamin C, and it is addictive. But we'll never know why the Sichuan and Hunan natives loved it more than those folks in Zhejiang. In closing, all I can do is quote the great gastronome Brillat-Savarin, "Tell me what you eat and I will show you who you are."
The author is an American living in China