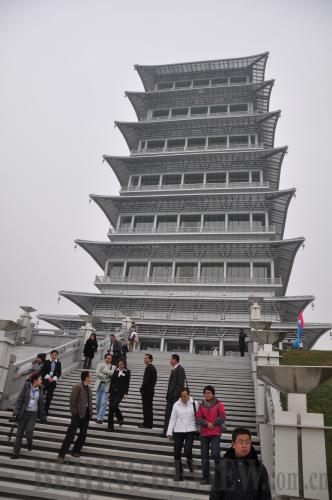 GROWING INTEREST: Tourists visit one of the four main buildings of the expo—the Chang'an Tower (KOU QING)
The 2011 International Horticultural Exposition (IHE) is coming to Xi'an, capital city of northwest China's Shaanxi Province. The IHE was last held in Shenyang, northeast China's Liaoning Province, in 2006.
The expo will showcase new achievements and new products in the areas of landscaping, horticulture, plants and flowers, environmentally friendly and energy-saving technology, new materials, and hundreds of rare plants and ecological landscapes from different areas and different climate zones around the globe.
The site of the 2011 IHE is located at the Chanba Ecological District of Xi'an. It spreads across a total area of 418 hectares, 188 of which are covered by water. The expo will run for 178 days from April 28 to October 22.
The expo takes "Heaven Chang'an, Creative Nature—City and Nature Coexisting in Harmony" as its theme, with "Green Leading Fashion" as its slogan.
Environment
As a fast-growing economy, China—especially during the process of urbanization and industrialization—is paying greater attention to sustainable development, environmental issues and improving people's livelihoods, said Wang Jun, Deputy Director of the expo's organizing committee.
He said the expo would show China's efforts to protect its historical culture and ecological environment in the process of rapid urbanization.
"Xi'an, an inland city, has the potential to become an international city. It has become an example of China's fast-developing economy. Through the expo, it will demonstrate a new image to the world based on its historical culture, natural environment, industrial foundation, advanced technologies, education and abundant natural resources," Wang said.
Thirty years ago, forest coverage in Shaanxi Province was less than 10 percent. It has now reached 41.26 percent, changing the province from yellow to green, he said.
NATIONAL TREASURE: A giant panda gets used to its new home at the 2011 IHE in Xi'an (XINHUA)
People in Xi'an are becoming more aware of the importance of environmental protection during the urbanization process. More attention is also being paid to the city's infrastructure, which is shown in many huge projects, such as the improvement of the Chanba River, Wang said.