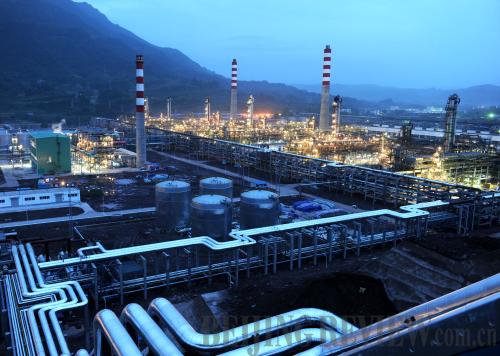 PUMPING OIL: Puguang Natural Gas Purification Plant in Dazhou, Sichuan Province, is the largest natural gas plant in Asia. China's petroleum industry boasts a complete industrial chain, from production to distribution (HU QINGMING)
Two concerns used to surround the Chinese economy in the outset of this year: overheating caused by "bold" plans on the part of local governments and a hard landing for the domestic economy because of austerity measures to combat inflation.
Based on recent National Bureau of Statistics (NBS) figures, these worries are unfounded.
China's economy maintained its upward growth in the first quarter of this year, according to NBS figures released on April 15. Preliminary estimates indicate the GDP was 9.63 trillion yuan ($1.47 trillion), a year-on-year increase of 9.7 percent.
"The momentum of the national economy's growth has been fast and steady since the second half of last year. We've had a really good start this year, showing that the economic performance is solid and other characteristics related to increasing employment, controlling prices, stimulating industrial profits and improving people's livelihoods are being addressed," said NBS spokesman Sheng Laiyun.
Maintaining the trend
Growth in the first quarter of this year can best be described with one word: steady.
This is good news for the agriculture sector, which China as a still-agrarian country heavily relies on for its overall economic performance. NBS estimates hold that this year the grain planting area of China will expand and its livestock production will grow on a constant basis.
The NBS conducted a planting intention survey this year of more than 70,000 rural households, and the result showed the grain planting area will reach 110.28 million hectares, an increase of 400,000 hectares from last year. Of this total, the planting area for summer grain will be 27.49 million hectares, an increase of 50,000 hectares. The proportion of first- and second-grade seedlings of winter wheat accounts for 86 percent of the total, which is 3.1 percentage points higher than in 2010. This means, natural disasters aside, China is set to realize an eighth consecutive surplus harvest year.
The NBS figures also show that in the first quarter the total output of pork, beef, mutton and poultry reached 21.42 million tons, a year-on-year growth of 1.8 percent. Of this total, the output of pork was 14.51 million tons, up 1.7 percent. Since pork prices tend to push up other food prices in China, growth in pork production will help stabilize the country's food prices.
Industrial production realized steady growth with continued increases in industrial efficiency. In the first quarter, the total added value of industrial enterprises of a designated size—those with annual sales revenue exceeding 20 million yuan ($3 million)—was up by 14.4 percent year on year, against 13.5 percent and 13.3 percent respectively in the third and fourth quarters of last year. The production and sales of industrial products went up as well. In the first quarter, the sales ratio of aforementioned industrial enterprises was 97.7 percent, or 0.1 percentage point higher than last year's same period.
Indicators
Sheng said to come to the conclusion that China's economy is truly steady, with no major ups or downs, certain standards must be met.