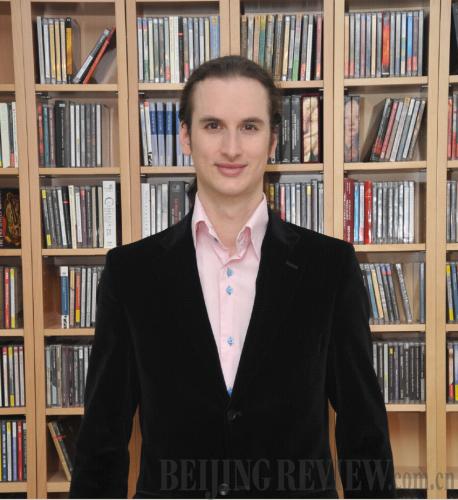 DRIVEN BY AMBITION: Julien Gaudfroy looks for new career opportunities out of showbiz (COURTESY OF JULIEN GAUDFROY)
"I am approaching a dead end. With interesting TV programs lessening, it has been hard to find platforms suitable for me," Gaudfroy said.
Before he came to China, the Frenchman played a cello and performed in a variety of concerts, winning a number of international music awards.
The turning point in his life was 1998 when a right-hand injury forced a two-year hiatus. During this time he became interested in learning Chinese.
"Having engaged myself in Chinese, I found the world much bigger than I had thought. I was then haunted by the idea of going to China," he said.
During his second visit to China in 2002, he decided to stay and pursue his dream of being an emcee, and has since hosted numerous programs at national and local TV stations. He has presented at various events such as annual parties and corporate celebrations.
"Over the past years, I have been trying to improve my Chinese. I have been learning about diction, about how to interact with the audience, how to grab and keep their attention, and how to make them laugh," said Gaudfroy.
Gaudfroy credits the Chinese comedy form crosstalk for his great progress. Apprenticed to Ding Guangquan, a renowned Chinese master of the form, he has become increasingly experienced himself.
"I have benefited significantly from years of learning crosstalk. The existing theoretical research on crosstalk has taught me a great many methods of making people laugh. Crosstalk adds to my humor and prepared me for improvisation on the stage," he said.
Gaudfroy refuses to be labeled as a "crosstalk comedian."
"I am no more than an apprentice. There are many people out there who love crosstalk more than I do. I prefer to define myself as an emcee," he said.
Gaudfroy has begun to doubt whether he can go any further in his career in China. He has failed several times to gain government approval for a TV program produced by his own.
"It is not that I am not good enough. There is no language barrier. I have ample experience, confidence and skills. I am even better than many Chinese emcees. If I were Chinese, I would have started a couple of programs by now. But my nationality stands in the way," he said.
Gaudfroy said what involved him in Chinese showbiz has become its biggest obstacle.
"In China, it is still novel for the audience to see a foreign face on stage. So, my face has brought me many opportunities," he said. "But, with the face, I will always be an outsider, a passer-by. I feel alienated at work."
Gaudfroy's frustrations result not only from the rigid regulations, but also from, as he puts it, an increasing number of "stupid" programs.
"There used to be talk shows integrating insight and humor, but they have given way to degraded programs featuring vulgar costumes and stupid games. The audiences are being treated like idiots," Gaudfroy said.
Gaudfroy is now considering withdrawing from his regular line of work and has become more selective about TV programs, and more focused on music and language education.
"I am planning to write a book about how to learn a language. I want to make cello-teaching videos, in which I will lecture and interact with an audience," he said.
Gaudfroy has been repositioning himself. His motivation is a constant pursuit of fun.
"I live not for money or power, but for comfort and happiness. Life has to be fun," he said.
In daily life, Gaudfroy does not feel as alienated and enjoys meeting interesting people in Beijing.
"The Chinese are very tolerant toward other cultures. It is also the reason why I choose to stay here," Gaudfroy said.