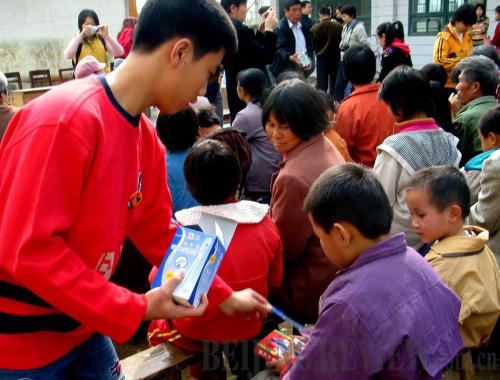 A LITTLE HELP: A netizen participating in the "one kg initiative" distributes books and stationery to students in Shuijian Primary School in Yangshan County, Guangdong Province (CHE XIAOHUI)
Gigi Leung Wing-Kei, a pop star in Hong Kong, posted a fund-raising message on her blog on her birthday, saying she would donate 1 yuan ($0.15) to the Hong Kong Committee for UNICEF for every message transferred by netizens. In three days, her message was resent 75,000 times, and she donated 80,000 yuan ($12,300).
This donation model has been copied by a number of people. At the end of 2010, a journalist posted a notice on her personal micro-blog, calling on people to donate teaching aids to a language-teaching school in Langjialing Township, Shiju County of Sichuan Province. One of her colleague promised that every time her message was resent, he would donate 1 yuan ($0.15) to the school. In two hours, 17,000 yuan ($2,615) was raised, reported Guangzhou-based Southern Weekend.
Micro-charity, if widely participated in, can make a big impact, Zheng Lingling told Nanjing-based Xinhua Daily. Zheng is director of the city's Project Hope Office, the local administrative organization of Project Hope, a famous charity project in China.
Not everyone can donate a lot, yet everyone can do what they can to give a little, Zheng said. "One's love to others should not be purely measured by how much one gives. It is important that everyone can give and gives," she said.
The Internet makes charity more accessible to all people, said Shi Zengzhi, a researcher studying online charity in the Center for Civil Society Studies of Peking University.
Official statistics show that in 2010 China had 420 million Internet users including 277 million who accessed the Internet via cellphone.
Internet has changed the way people give. Some netizens want to make donations online. Internet as a new donation channel has several advantages, Shi said. It can disseminate information quickly and widely, and makes it easier for donors to pay and for benefactors, beneficiaries and fundraisers to interact with each other.
Innovative giving
Fundraisers for micro-philanthropy such as Liang Shuxin tend to use innovative strategies to solicit funding.
Liang once successfully traded three pencils for money to construct school buildings.
In March 2010, Liang posted a message on his micro-blog, saying that three students from Foding Village Primary School in Zouma Township, Shaoping County of southwestern Guangxi Zhuang Autonomous Region would like to exchange three pencils for anything with netizens until they get something worth 120,000 yuan ($18,462). Then they would auction off the item and donate the money to Foding Village Primary School to construct school buildings.
A pencil was exchanged for a piece of chocolate, and the piece of chocolate for an electric cooker, and the electric cooker for a copying machine…Some artists also joined the exchange and offered their personal stuff. Eventually, more than 200,000 yuan ($30,769) was raised for the school.
Deng Fei, a journalist who raised fund to offer free lunch to primary students in Shaba Primary School in Huaxi Township of Guizhou, also would like to use innovative fundraising ideas.
Inspired by virtual lunches sold by Liang, Deng planned to sell virtual trees, students' wishes and the right to dine or play golf with celebrities at online stores.
On April 4, the right to have dinner with a famous investor in China was sold for 100,000 yuan ($15,384). Deng is going to auction the right to play golf with a famous golfer in China and he expected that would bring in even more money.
Deng said people can also sell their personal items that they no longer need and donate the money for charity. He planned to donate some of the books he has collected.
Regulatory ambiguity
Micro-charity is in its infancy and is not yet regulated well. Currently, there is no specific law in China governing micro-charity.
"At present, how to regulate micro-charity is a difficult issue. Individuals are not allowed to raise money from the general public, so micro-charity can only be seen as mutual help between people," said Zheng Yuanchang, an official overseeing charity in China's Ministry of Civil Affairs.
Currently, China's charity law at national level is still in the making, while Jiangsu and Hunan provinces respectively passed local regulations in 2010, forbidding unauthorized individuals or organizations from raising funds from the public.
"Rapidly developing micro-charity urgently needs laws to govern," Jin Jinping, a Peking University professor researching charity laws told the Beijing-based China Philanthropy Times.
Jin said that although there is no dedicated law governing fundraising through micro-blogs, if there are agreements between individuals, breach of agreements can be addressed according to civil laws.
If a fundraiser has not used the money for the agreed purpose within the agreed time, he or she then breaches the contract, and the donor can demand for a return of the donation, Jin said.
Even though fundraisers and volunteers for micro-charity will incur transaction costs during charitable activities, they cannot spend any donation without prior agreement with donors on the spending, Jin said.
Liang said that all the money raised for free lunches in Hongban Primary School will all be spent on the project itself. He said that he and his team members paid the cost for their trip to the school to implement the program out of their own pocket, and in the future, they would raise money for project administration separately.
Lack of proper oversight makes some people skeptical about micro-charity. According to Xinhua Daily, an online survey showed that 29.58 percent of respondents said that they would contribute to micro-charity, while quite a number answered that they would not donate because they do not know where the donation would eventually end up.
Shi thought that the best way for micro-charity fundraisers to win trust is to be transparent in their operations. The government should regulate micro-charity and make relevant laws, but it should not control it too tightly, Shi said.