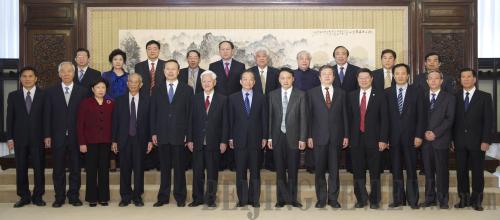 A NEW BEGINNING: Premier Wen Jiabao (center) poses with new members of the Counselors' Office and the Central Research Institute of Culture and History on April 14 (HUANG JINGWEN)
Incidents related to food safety indicate that "dishonesty and moral degradation" have become a very serious problem in the country, Chinese Premier Wen Jiabao said on April 14.
Wen made the remark during a ceremony appointing new members to the Counselors' Office and the Central Research Institute of Culture and History (CRICH), an advisory body and an academic research agency, respectively, directly under the State Council.
Wen mentioned several recent food safety scandals involving melamine-tainted infant milk, illegal feed additive clenbuterol to produce lean meat, poor-quality recycled cooking oil, known as "gutter oil," and steamed buns dyed with different colored chemicals.
A country will never grow into a mighty and respected nation without the improvement of its ethical standards and without the power of morality, Wen said.
Wen said culture lays the foundation for the formation, consolidation and development of a social system. However, despite significant progress in the past 30 years since the implementation of the reform and opening-up policy in China, cultural building, especially the building of morality, still lags behind economic development, he said.
Greatly promoting moral and cultural progress is necessary to maintain normal production, life and social order. In the meantime, it helps to eradicate the hotbed breeding corruption and other shady practice such as seeking profits by hook or by crook, Wen said.
Stepping up moral building in the new era is an arduous project, Wen said. China should incorporate the concept of rule by law into moral and cultural building, deepen political, economic, cultural and judicial reform, and improve our legislation and regulation making process, he said.
It is a must to guarantee that the law-abiding enterprises and individuals are well protected by law and be respected by the whole society, while those malfeasants should be punished in accordance with law and be condemned by the people, he added.
Socialist morality should be cultivated with nutrients drawn from China's excellent traditional culture and outstanding civilizations around the world, Wen said.
Wen said the counselors and researchers could play an important role in the country's scientific and democratic decision-making process. He asked counselors and researchers to work hard and bravely seek truth when conducting investigations and research.
He said being down-to-earth, independent and outspoken is attractive personality traits of counselors and CRICH researchers, which is also crucial to offering high quality consulting.