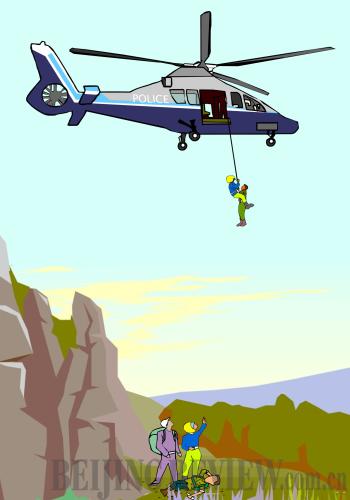 (LI SHIGONG)
On April 3, 39 teachers and students from the Beijing Institute of Technology (BIT) were trapped on the Maoer Mountain in Fangshan District, a suburban area in Beijing. More than 300 persons, including police and locals, were sent out to rescue them and two helicopters were used during the mission. It was the first time Beijing police have used helicopters to rescue trapped citizens.
Only a day after the incident on Maoer Mountain, Beijing police were again called out to rescue 17 adventurers lost on a mountain in Mentougou District. Helicopters were once again used for the rescue and more than 290 persons, including police and firefighters, were sent on the mission, which took 21 hours to complete.
It's estimated the cost of fuel alone for a helicopter that has to fly for three hours can reach as much as 10,000 yuan ($1,520), when costs for transport and personnel aren't taken into account. There are also many variables in such missions, including weather, terrain and communications, all of which add to the costs of the rescue. And, for the two above-mentioned missions, the imprudent adventurers were not charged a cent to cover the costs.
Two incidents in a row have soon ignited a heated public debate: Should those who have to be rescued pay set fees or be fined for reckless behavior?
Supporters of charging the adventurers say they think adventurers should shoulder the responsibility and be charged or fined so they can take away a lesson from these incidents. Also, this will prevent more people from indulging in this sort of careless behavior, which brings unnecessary costs to society and taxpayers.
On the other hand, opponents say they think, since those who have to be rescued are also taxpayers, they are entitled to public services for free since they have paid the bill already. Also, the value of life is immeasurable and it's the police's obligation to rescue people in need, and this shouldn't be a matter of economics since it is a public service.
Charge
Deng Haijian (Beijing Morning News): We know people's lives are the most important thing, but could the waste of public resources be avoided?
The details of the incidents give rise to many questions: The trapped people didn't know the environment of the mountains they were climbing at all and went there only because they had heard there were very beautiful places; they didn't wear the right clothing and a few of them took along run-down communications equipment which ran out of power very quickly. In all, they were unprofessional expeditions and the adventurers' imprudence should be punished by charging them a certain amount of money.
We still remember last year a policeman sacrificed his life when trying to rescue 18 adventure travel fans in Shanghai.
These thoughtless expeditions have become a public risk and the people involved should be charged for unnecessary costs.
Outdoor adventure is a job for professionals, and entails a very high demand upon participants' outdoor survival abilities. It's a pity what we are seeing now is mostly self-organized ventures with no specialized knowledge, no professional equipment and no outdoor survival skills at all. This kind of careless adventuring in its nature is no different from law-breaking drink-driving.
People are free to climb mountains, and being rescued by the government is their right. But the premise of enjoying this freedom and right is obeying the rules and taking heed of their obligations: such as not adding to any social burden and not taking public resources lightly.
Ye Chuanlong (gongyi.people.com.cn): The rescue stories were quite touching and they ended up OK as nobody was hurt. But we can still remember the bloody lessons of last year when a policeman sacrificed his life rescuing people trapped in a mountain area in Shanghai. Similar incidents have occurred this year twice in a row, which has shocked people since adventure fans don't seem to have learnt any lessons from the previous disaster.
It's reported the outing of BIT was organized by a self-organized club, which doesn't have enough professional knowledge. Those adventurers went to forbidden areas where even local residents don't dare to go. Their behavior was imprudent and careless, and it shouldn't be encouraged.
Outdoor sports organizations should make full preparations and set out detailed plans to deal with every possible eventuality. But the teachers and students from BIT had nothing else to do but call the police for help when they were lost since they weren't prepared and lacked basic survival experience in outdoor activities.
The rescue money is paid out of public finances, ultimately the tax payers. Police and society have paid a lot for this imprudent adventuring, which can't be compensated for by simply saying "sorry." Right now, criticism and blame about the costs have nothing to do with the result. The government should fine the adventurers appropriately as tuition for them to learn from this kind of accident. Also, their fines can compensate for the waste of social resources. That's what relevant government departments should do to prevent people from going on adventures for which they are not prepared and bringing about too many problems for search and rescue personnel.