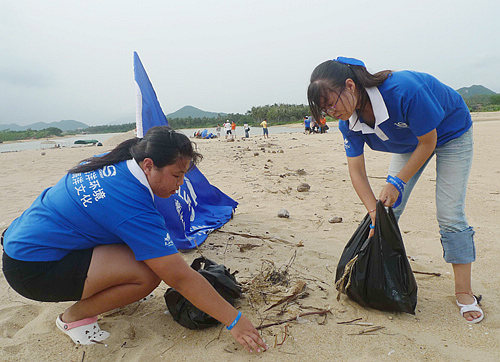 CLEANING THE PARADISE: Members of Sanya-based volunteer group Blue Ribbon pick up rubbish on an uninhabited island in Sanya, Hainan Province, on September 6, 2010 (ZHOU XUAN)
A dream of owning an island can become a reality in today's China. On April 12, the country's State Oceanic Administration (SOA) released the first list of uninhabited islands available for development by enterprises or individuals. A total of 176 islands have been opened up for the public to develop. Tourism and entertainment, transportation, manufacturing, warehousing, fishery, agriculture, forestry, construction and renewable energy are sectors that may be developed.
The islands are scattered off the coasts of Liaoning, Shandong, Jiangsu, Zhejiang, Fujian, Guangdong and Hainan provinces, and Guangxi Zhuang Autonomous Region. Guangdong, Fujian and Zhejiang top the list with 60, 50 and 31 islands, respectively.
"Any corporation and individual can apply to tap these uninhabited islands as long as they have appropriate development plans and use the islands for the stipulated purposes," said Lu Caixia, Director of the SOA's Island Management Office.
Aiming at protection
China has more than 6,500 uninhabited islands, accounting for 93.8 percent of the total number of its islands, says the SOA. Currently, most of these islands are in states of illegal occupation and disorderly exploitation. "It's time to put them under protection," Lu said.
China's only island resource survey, conducted in 1988, shows it has 6,961 islands larger than 500 square meters. It also has tens of thousands of islands smaller than 500 square meters. But about 800 islands have disappeared in recent years because of human actions and natural erosion, Xinhua News Agency reported in March.
Xia Xiaoming, a researcher with the Second Institute of Oceanography, told People's Daily in February the main causes of disappearances are reclamation of land from the sea, sometimes done by filling water areas between the mainland and islands and by construction projects in which rock taken from the islands is used.
Reclamation, sand dredging and bombing are among the destructive human activities to cause the disappearance of islands, a five-year survey conducted by SOA said.
Zhu Renmin, a professor with the China Academy of Art in Hangzhou, Zhejiang Province, bought an uninhabited island near the coast of Zhoushan for more than 90,000 yuan ($13,177) in 1996, becoming China's first owner of an uninhabited island. But in recent years, his piece of land, named Lotus Island, has faced the risk of disappearance. Zhu said, since 2003, developers have accelerated filling sea areas to expand construction sites. "Today there is only a 20-30-meter trench left between my island and the coast line," Zhu said. "If no measures are taken, the island will vanish as a separate entity in the near future."
Zhejiang's coastline has 2,878 islands of areas more than 500 square meters, of which 90 percent are uninhabited. Official statistics say more than 220 islands have disappeared since the 1990s due to reclamation, soil erosion and over-exploitation.
From 2003 to 2005, a frenzy of island development swept China's coastal areas, but was later called off by the Central Government over conservation concerns. "Profit-driven developers will surely sacrifice the environment to their business," said Geng Xiangkui, a professor with Zhejiang Ocean University in Zhoushan. "This will pose great challenges to islands with delicate ecosystems."
Lu said islands help to expand the space people have for economic development, to protect the marine environment, to maintain a balance among species of underwater life and to guarantee the country's security. The government has established strict assessment criteria and regulations.