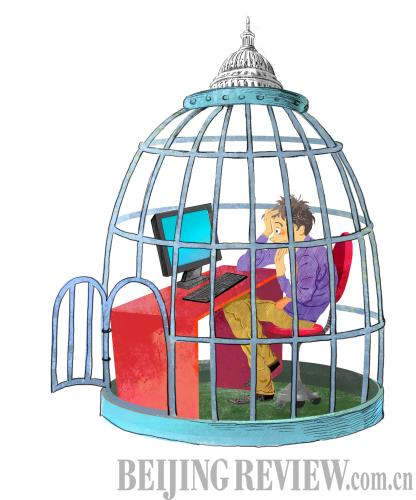 (CFP)
"If a teacher called on me, I'd panic. My heart would beat so hard and I felt like I could barely breathe. Even though I knew the answers, my mind would go blank, so most of the time I tried not to get called on," said a 16-year-old netizen, known as Lana, in an online posting.
Upon reading this post, Li Meng wept, having finally found a kindred spirit. "When I was in primary school, I was called on once by the teacher to read my composition in front of the whole class. I got so nervous that my hands were shivering. I couldn't even hold the composition book and the whole class laughed at me," said Li.
Since then, Li said, she was afraid of going to school and talking to people.
"I've been suffering from this for 10 years," said Li, who is now a college student in Beijing and spends most of her time in the dormitory, surfing the Internet. "I felt so lonely I could die. Most of the time, I wouldn't dare go to class and I didn't even want to go to the canteen. I know it is abnormal, but I don't know how to deal with it."
Li said she believes she is almost the protagonist of The Man in a Case, a short story written by Russian author Аnton Chekhov describing a highly insecure individual who always wraps himself in a big coat.
"These are typical symptoms of social anxiety disorder (SAD), or social phobia," said Zhang Xinkai, Director of the Department of Child and Adolescent Healthcare in Xinhua Hospital based in Shanghai.
According to Zhang, SAD is a crippling shyness that makes its sufferers want to avoid being in large social settings. "Anyone can have a racing heart, sweaty palms, or fluttering stomach when trying out for chorus, or giving a class presentation. But most people can manage to get through these moments when they need to," said Zhang. "For some, however, the anxiety that goes with feeling shy or self-conscious can be extreme. The extreme feelings of shyness and self-consciousness build into a powerful fear. As a result, a person feels uncomfortable participating in everyday social situations."
SAD happens mostly on children and adolescents, as people of that age are more sensitive to other people's opinions on them. Zhang said he used to treat a teenager patient who dared not lift his head while walking on the street and covered his face even during family meals because he was concerned that people would mock him for the pimples on his face.
A lonely disease
"SAD has long been ignored in China and the people with SAD were either regarded as being very shy or categorized as having other mental diseases," said Zhang.
The teenager with pimples was diagnosed as schizophrenic before he was sent to Zhang by his parents. "Even his parents didn't think he had any disorder. They were just worried that the son's shyness was a bit too much," Zhang said.
SAD was included in the American Psychological Association's Diagnostic and Statistical Manual of Mental Disorders in 1980. The term was introduced to China in the 1990s. "While until now, only few people know what SAD is, including those suffering from SAD. They suffer greatly from the disease but are misunderstood by people around them," said Zhang.
"People with SAD feel as though they must simply be alone in a closet with the door closed behind them. Even when they're around familiar people, they may feel overwhelmed and have the feeling that others are noticing their every movement and scrutinizing their every thought. Because few socially anxious people have heard of their own problem, and have never seen it discussed on the media, such as talk shows, they think they are the only ones in the whole world who have these terrible symptoms. Therefore, they must keep quiet about them," said Thomas A. Richards, a psychologist in the United States.
Zhang knows about the painful feelings of the patients. "Half of the patients told me that they want to commit suicide, and 20 percent of them actually attempted to commit suicide," said Zhang.
Anxiety Disorders Association of America, a non-profit organization conducted research in 2010, finding 7 percent of global population has SAD. The percentage is reportedly 13 percent in the United States and 15 percent in Japan.