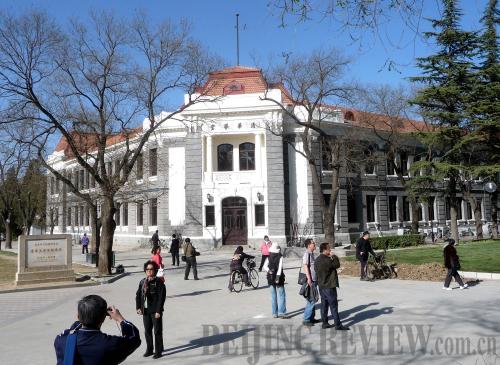 A TIME TO REMEMBER: Students and visitors take pictures on Tsinghua University's Beijing campus on April 10 (GONG WENBAO)
Scientific leader
Ye Qisun, a renowned physicist, educator and one of the founders of modern physics in China, was one of Tsinghua University's first students.
One hundred years ago, Ye, 13 years old, was admitted into Tsinghua Xuetang.
In 1918, Ye studied physics in the University of Chicago and Harvard University. He obtained his Ph.D from Harvard in 1923.
Ye came to teach in Tsinghua University in 1925, and set up its Physics Department at the age of 27. Four years later, he set up the university's School of Sciences and served as its dean. Many students graduating from the school have become backbones of China's scientific research and development.
Of the 23 outstanding scientists whom the government honored in September 1999 for their great contributions to the making of China's atomic bombs, missiles and manmade satellites, nine are Ye's students, and the other four are also associated to him or his students.
Many of his students are household names in China, such as rocket scientist Qian Xuesen, nuclear physicist Qian Sanqiang, mathematician Hua Luogeng, Nobel laureate in physics Tsung-dao Lee and optical engineering scientist Wang Daheng.
Ye is just one of many Tsinghua faculty members who are not only outstanding scholars but also great teachers.
Statistics from Tsinghua University show that among the people who have studied or worked at Tsinghua University after the founding of the People's Republic of China in 1949, there are 330 academicians with the Chinese Academy of Sciences and 144 academicians with the Chinese Academy of Engineering.
A number of Tsinghua alumni have been recognized as playing a pioneering role in their respective fields in China, such as bridge architect Mao Yisheng who is the founder of China's modern bridge engineering, physicist Deng Jiaxian who is reputed as "the father of China's atomic bombs" and mathematician Chia-chiao Lin who is known as the "father of China's applied mathematics."
Many have won international reputation. Chemist Hou Debang, who graduated from Tsinghua University in 1913, has been universally acknowledged for his great contribution to the development of the world alkali industry for his innovative methods to pure alkali and ammonium chloride.
Physicist Tsung-dao Lee won the Nobel Prize in Physics in 1957, together with Chen-ning Yang. Yang, now in his 80s, is a professor at the Institute for Advanced Study of Tsinghua University.
Tsinghua University has spawned creative ideas and technologies. China's first experimental reactor and the world's first 5-gigawatt low-temperature nuclear heat-supplying reactor were developed in Tsinghua University. The university has also made many breakthroughs in such fields as computer science and nanotechnology.