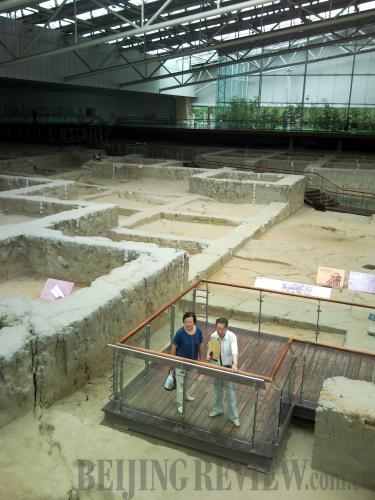 CULTURAL HERITAGE: Tourists visit the Jinsha Heritage Site Museum in Chengdu, capital city of Sichuan Province, on September 8, 2010 (CFP)
Today, the Daming Palace heritage site has a brand new look. What is there now is a heritage park with historical themes.
This renovation program has greatly lifted the city's image and environmental quality. Since the park has been opened to the public, the number of visitors keeps increasing. Tourism-related business opportunities follow, and the prices of the surrounding land surge, bringing remarkable economic benefits.
"The national heritage park program set the Daming Palace heritage site free from huge population pressure, so we can protect it effectively. It also dramatically improves living standards of the 100,000 residents formerly living on the site," said Zheng Yulin, Director of Xi'an Municipal Cultural Heritage Bureau.
Not only Xi'an, but other cities have also benefited from establishing national heritage parks. For instance, the Jinsha National Heritage Park in Chengdu, capital city of southwest China's Sichuan Province, led to the emergence of a business zone around it, creating new development space for Chengdu. Others, such as the Liangzhu National Heritage Park in Zhejiang Province and Hongshan National Heritage Park in Jiangsu Province, help change the cities' landscape while improving local's economic development pattern and people's living standards.
The national heritage parks are already more than a platform for protecting cultural resources and promoting education. They play a significant role in building harmony between social and economic development and heritage protection.
Combined effort
According to the Law on Protection of Cultural Relics, local governments at various levels shall take charge of the work concerning the protection of cultural relics in their own administrative areas.
But, in some areas, the protection work was regarded as a job for cultural heritage departments only. Some local governments even viewed it as an obstacle to city development.
Fortunately, the construction of national heritage parks has changed this situation. Along with park construction, local governments have assumed a leading role in cultural heritage protection.
"Unlike other cultural heritage protection programs, the protection of heritage sites is much more complex. It is far from enough to depend on cultural heritage departments alone, as it involves various aspects of city governance," said Wu Chun, who participated in the Daming Palace heritage site protection program.
The construction of the Daming Palace National Heritage Park cost about 12 billion yuan ($1.85 billion), including 9 billion yuan ($1.39 billion) for residents' relocation and 3 billion yuan ($460 million) for excavation, preservation and display of cultural relics and park construction. Such a large-scale relocation and such a large amount of fundraising are impossible for cultural heritage departments alone. They need joint efforts from municipal and provincial governments.
"It is the statutory obligation of the government to protect cultural heritages," said Dong Baohua, Deputy Director of the State Administration of Cultural Heritage. "We should take our due responsibilities. Only then can cultural heritage protection be included in the local economic and social development plan. Also, only in this way can we ensure the public benefit from the cultural heritage protection and utilization efforts."
He said, "It is essential for local governments to guide social forces to participate in the cultural heritage protection work. Of course, the plans should be made based on local conditions and with an innovative spirit. This should be the ultimate solution to the conflict between heritage protection and city development."
The first 12 national heritage parks announced by the State Administration of Cultural Heritage of China:
- Yuanmingyuan National Heritage Park in Beijing
- Zhoukoudian National Heritage Park in Beijing
- Ji'an Gaogouli National Heritage Park in Jilin Province
- Hongshan National Heritage Park in Jiangsu Province
- Liangzhu National Heritage Park in Zhejiang Province
- Yinxu National Heritage Park in Henan Province
- Sui-Tang Luoyang City National Heritage Park in Henan Province
- Sanxingdui National Heritage Park in Sichuan Province
- Jinsha National Heritage Park in Sichuan Province
- Yangling National Heritage Park in Shaanxi Province
- Emperor Qinshihuang Mausoleum National Heritage Park in Shaanxi Province
- Daming Palace National Heritage Park in Shaanxi Province
(Source: www.gov.cn)