FULL OF HAPPINESS: Wang Xiaowan and his wife Liu Xianhui in front of their restaurant in Jina Qiang Ethnic Village in Beichuan County (JIANG XIAOYING)
Wang Xiaowan, 55, a native Jina Qiang Ethnic Village in Beichuan County, Sichuan Province, still can't believe he lives in the same village where he grew up. He touches the bricks of the watchtower and the entrance of his village, he steps hard on the path, and the sound assures him he is in the real world.
During the Wenchuan earthquake in May 2008, 69 houses collapsed and 26 villagers died in the village which houses 71 households. Now no signs of the earthquake are visible in Jina. The houses and forts were rebuilt fast, especially after Premier Wen Jiabao visited the village during Spring Festival in 2009.
Wang and his two sons survived the monstrous earthquake but his wife lost her life to it. The first days after the earthquake were horrible for Wang and his fellow villagers. They huddled in temporary shelters with little to drink and eat. Many were crying, depressed and hopeless. But Wang encouraged them to hang on, as he believed there would soon be help.
And the help did come with a rescue team delivering water and food. Later they were relocated to a settlement for earthquake survivors in nearby Mianyang City. In July 2008, more than 800 servicemen and other workers were dispatched to Jina to help the villagers clean up the rubble and rebuild the houses.
To finish rebuilding new houses ahead of winter, the construction workers were pushing the schedule day by day. They lived in the tents while the villagers lived in prefabricated houses.
In just five months, a new village was born. Wang moved into his 120-square-meter big house with every modern home appliance: big couch, TV set, refrigerator, and even stereo system. The house cost about 150,000 yuan ($23,100) to build. But Wang paid only 50,000 yuan ($7,700), with the rest covered by government subsidies and social donations.
Life was gradually recovering for Wang who, from time to time, would offer help to his neighbor, Liu Xianhui, a widow with two daughters, who lost her husband to the earthquake.
Affection was growing between the two who felt sympathy for each other. However, Liu's two daughters found it difficult to accept Wang as their stepfather, saying he was too old for their mother who is 44.
County officials knew the issue. They came down to the village and persuaded Liu's daughters to agree with the marriage between Wang and Liu.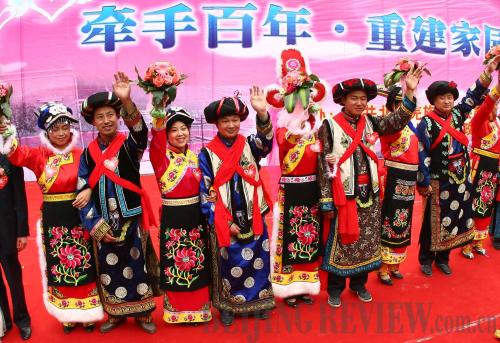 WEDDING AFTER TRAUMA: Couples of widows and widowers of the Wenchuan earthquake hold a group wedding in Jina Qiang Ethnic Village on April 26, 2009 (CFP)
In 2009, Wang and Liu were married at a group wedding with another 19 couples of quake widows and widowers. The wedding service, funded by the local government, was held in accordance with the folk customs of the Qiang ethnic group in Beichuan.
With family settled, Wang began to think about his future. He decided to open a restaurant serving Qiang cuisine. The restaurant was the first one in his village. Wang borrowed 20,000 yuan ($3,076) to decorate and equip the restaurant, which has 10 dinner tables.
The restaurant has been doing good business since its inception. In the tourism season, it was packed with diners who flocked to the village from nearby cities. Daily profit topped 1,000 yuan ($154) during weekends.
"One of my daughters is the chef and she is so good with the local style of cooking. When there are too many diners, I have to ask my relatives to help," said Wang.
Wang's success has inspired a dozen new restaurants to mushroom in the village.
Seeing this, Wang began to diversify his restaurant's services, including organizing performance of guozhuang, a kind of traditional Qiang dance, for tourists. These efforts helped the restaurant gain greater recognition.
But, with the other restaurants following suit, Wang began to worry about the loss of traditional fun.
"Our villagers used to perform guozhuang together but now every one just does it separately for the course of tourism. There's a lost sense of collectiveness," said Wang. He said he hopes the villagers can make concerted efforts to bring the tradition back to where it used to be.