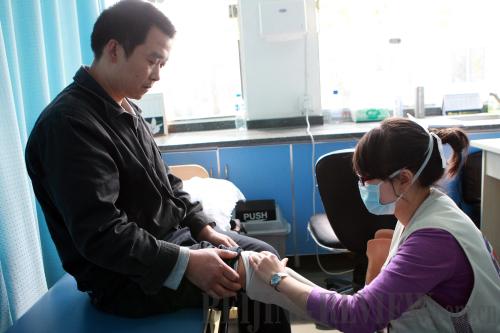 CAREFUL HELP: A nurse at the Deyang Rehabilitation Center for People With Disabilities substitutes a new artificial limb for Liu Xuejian (JIANG XIAOYING)
Nobody could tell the man who was walking back and forth in the lobby hall of the Deyang Rehabilitation Center for People With Disabilities has anything different from normal people, until he sat down and removed his right "leg," an artificial limb that a nurse took over and examined with great care.
The middle-aged man, Liu Xuejian, was visiting the center to substitute his worn-out artificial limb for a new one. Liu is from Hanwang Township in Mianzhu City, one of the hardest-hit areas in the 8.0-magnitude Wenchuan earthquake in Sichuan Province in May 2008. His home collapsed and he lost his right leg.
"I couldn't imagine myself being a disabled man, as I'm the only income earner in my family," said Liu, who confessed he had cried privately many times after the earthquake.
The nurse carefully adjusted the new artificial limb with a small tool looking like a screwdriver. "I'm adjusting the pressure points to make the person wearing it feel comfortable," she said. Then she asked Liu to wear it again and walk a little bit to see if it performed well.
Liu was very content with the adjustment and gave a thumbs-up for the nurse's work. "Now I can walk normally like just anybody else, with my trousers covering the leg and no one can see the secret down there," said Liu, who thinks he owes much to the center that has helped him stand up again.
As early as September 2008, when Liu was released from hospital with a new "leg," he was able to do some light labor work such as fixing door locks. Over the past three years, he has changed backup legs seven times and taken up different jobs from reaper to construction worker. "It's a piece of cake for me to lift something heavy, as long as it's less than 75 kg," said Liu proudly.
The center has detailed records for every patient, and its service is totally free of charge. "If I need to substitute the old artificial limb for a new one, all I have to do is make a call in advance," said Liu.
The center was set up in June 2008 by the Hong Kong Red Cross in collaboration with the Deyang Disabled People's Federation on 68 million yuan ($10.47 million) donated by Hong Kong people. It had treated and rehabilitated 1,377 patients by the end of March.
The center is a one-stop shop that manufactures artificial limbs on the premises and provides overall long-term care including occupational therapy and psychotherapy, said Peter Tsang, the technical chief from Hong Kong. Tsang has been working in the field of prosthetics (artificial limbs) and orthotics (braces and other devices to help patients use damaged limbs) for 38 years.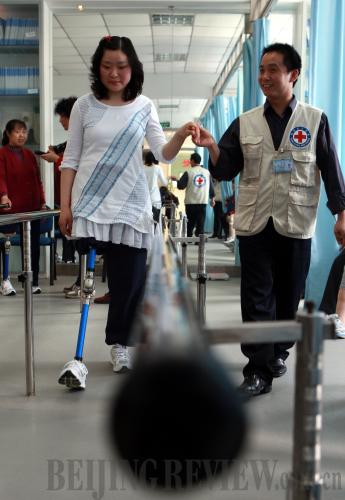 STANDING AGAIN: An orthotist at the Deyang Rehabilitation Center for People With Disabilities helps a patient practice walking on April 21 (JIANG XIAOYING)
The center has a workshop where artificial limbs are manufactured by a team of young workers. Each of the workers has received at least three years' training at a special institute and several more years of on-the-job training. Using plaster casts taken from patients they painstakingly craft each prosthetic device to meet the precise needs of the individuals.
"But you can't just give the patient an artificial limb and let him or her go their own way," Tsang said. The center offers a full package of care, including limb fitting, training in the use of prosthetics and, more importantly, psychological care.
Tsang said between 30 and 40 percent of patients at the center need psychological treatment to help them adjust to the loss of a limb or reduced mobility. Many patients are also grieving for lost loved ones or suffering from post-traumatic stress disorder.
On the second floor of the center there's a big room for occupational therapy where the patients learn to take care of themselves and obtain some skills to support themselves. "The occupational therapy is very important as the patients, after all, will get out of the center and return to their families and society. They have to be independent," said Zhuang Yue, one of the center's therapists.
The center also engages in living environment modifications for its patients when they return home. "If a patient has to ride a wheelchair, then we have to design a slope and rails in front of his or her house to make easy access for them," Zhuang said. The consequent expenses are covered by the center.
The center is committed to providing free treatment to earthquake victims for five years, said Ma Jun, Chairman of the Deyang Disabled People's Federation. This covers not only medical care and equipment but also accommodation and food during their stay. The center covers all patients' travel costs including those of visiting relatives.
"We are appealing for attention and donation from the public to support us. When the start-up funds exhaust, we will meet with financial challenges," said Ma. But, at least the collaboration with the Hong Kong team has left the center a solid foundation for development including facilities, expertise and experience.