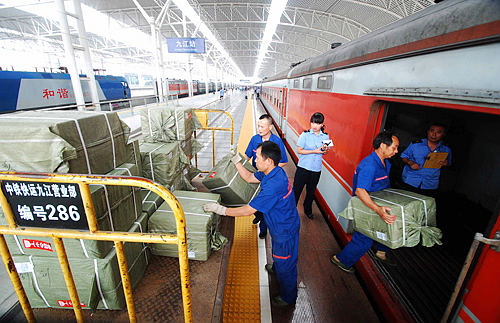 RAILWAY DELIVERY: China Railway Express workers carry parcels on to a luggage car at the Jiujiang Railway Station in Jiangxi Province (HU GUOLIN)
According to a report released by the Beijing-based Zero2IPO Research Center, an equity investment consulting company, last year China's online retail turnover increased 162.2 percent from the previous year, much faster than the 19.96 percent year-on-year increase of the express delivery industry.
The bulky e-commerce business has outpaced the delivery capacity, said the report.
For industry insiders, problems menacing the healthy development of the industry are growing more prevalent.
The vicious price war has hurt the healthy development of the whole industry, said Xu.
Nowadays a parcel weighing less than 1 kg to be shipped from Beijing to Shanghai costs only 7 yuan ($1.1), while a parcel of the same weight delivered within the same city costs 5 yuan ($0.77).
With the labor cost and fuel price hikes, the profit margin has plummeted from 30 percent in 2005 to 5 percent last year, said Xu. He attributed the startlingly low figures to the highly fragmented industry.
"Usually you can open an express firm by hiring two couriers, applying for a service line and buying a car. Most express firms in China are franchised outlets of large express delivery networks. The inadequate administration from the headquarters and fierce competition forced individual outlets to win competition through price wars," said Xu.
According to SPB, China had registered 5,883 licensed express firms by the end of 2010. Six brands have annual revenue exceeding 2 billion yuan ($307.7million) and two have more than 10 billion yuan ($1.54 billion), compared with the 57.5 billion yuan ($8.85 billion) in revenues of the whole industry.
"It shows that the express industry is too fragmented and crowded in China. The biggest four carriers in the United States occupy 95 percent of the market share," said Yong Hu, chief representative in China of the Conference of Asia Pacific Express Carriers.
Ma from the SPB said China's express industry has become big, but not strong. The number of customer complaints is also rising.
A common complaint among customers is about extended delays in deliveries before long holidays because of the companies' increased volume of traffic and because many employees have quit their jobs for the tough work conditions and low pay. Many also complained that the companies did not allow customers to check the product unless they signed the receipt upon the product's arrival.
In the first half of this year, the complaints over express delivery and postal service jumped 72.6 percent year on year, said the China Consumers Association.
Delivery delays, missing purchases and unregulated charges were the most complained about problems in China's express industry, said the SPB.
Scale is key
The increasing headaches of the express industry are rooted in its fragmentation, Xu said.
"Owing to the small scale of each individual firm, they are not able to seek financial support, use mechanized sorting methods or train couriers to improve service," said Xu.
The Zero2IPO report also showed the gap between investment in e-commerce and express industries. In 2010 and the first half of this year, 115 financing cases happened in China's e-commerce industry, while there were only eight in e-commerce-related logistics.
Most express firms do not have their own fixed assets, which makes ascertaining investment even harder, said Xu.
Up until now, no express enterprises in China have been listed. Now China Post is preparing to issue an IPO for its express delivery business, said Beijing-based Caijing magazine.
In attempts to reorganize the fragmented industry, policymakers have launched a crackdown on unlicensed express delivery firms. The SPB in June 2011 announced suspensions for 56 unlicensed express enterprises, mostly franchised outlets of the country's four major express delivery networks: ZTO, Shentong, Yunda and Yuantong.
The Law of Post, passed in September 2009, stipulates that all express delivery service companies should obtain licenses before operation, setting thresholds for newcomers.
In June this year, the government initiated a guideline to hand out policy incentives for major express enterprises and encourage mergers and acquisitions. The SPB will streamline approval procedure on the mergers and acquisitions in the express industry. More incentives in fiscal and taxation policies and land use will be implemented to support these efforts.
Moreover, the government has also pledged to support express firms' share listings and bond sales. The goal is to foster a batch of internationally competitive giants over the next five years.
Express delivery is an emerging industry because of its great potential, said Ma. "We will take innovative measures to promote its development," he said.