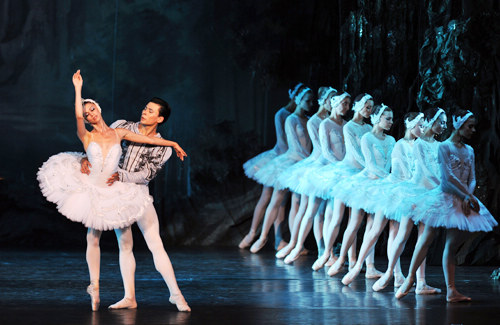 WESTERN CLASSIC: Russian artists present Swan Lake at the Second China Xinjiang International Folk Dance Festival on July 21 (JIANG WENYAO)
The ballet classic Swan Lake presented by the Moscow Regional Russian State  Ballet Theater on July 20 marks the beginning of the special performances of the Second China Xinjiang International Folk Dance Festival in Urumqi, capital of northwest China's Xinjiang Uygur Autonomous Region.
The graceful and elegant dance of Russia's ballet performers has won the hearts of hundreds of members of local audiences. This is the first time the Russian theater, one of Russia's leading ballet enterprises, will perform in Xinjiang. They will bring four performances to the city.
The dance festival, which kicked off on July 20, will last till August 5. The 17-day festival will present 74 performances in nine major theaters in Urumqi of professional dancing by 24 first-rate domestic and foreign dancing groups from 14 countries consisting of more than 2,000 dancers.
There are also exhibitions including the modern art festival, the Xinjiang Hotan jade cultural festival, cultural relics exhibition, dancing competition and a photography contest, all adding to the variety.
"The festival is a national-level cultural communication platform the Chinese Government established in the northwestern border, which aims to let the world know Xinjiang better," said Yu Fan, Deputy Director of the Bureau for External Cultural Relations of the Ministry of Culture, at a press conference in Beijing.
"This year's dance festival is being held during tourism peak season in Xinjiang. Domestic and foreign travelers cannot only enjoy the fabulous art of dancing but also appreciate the unique tourism and customs in Xinjiang," said Yu.
The festival is warmly welcomed by local people. Ever since the tickets for the festival started selling on July 10, there have been lines in front of the ticket offices.
"In the first two days since the tickets went on sale, about 2,100 tickets were sold and tickets for some popular ballets, such as Swan Lake and China's Raise the Red Lantern, have sold out," said Li Hongbing, Director of the Cultural Market Management Office under the Department of Culture of Xinjiang Uygur Autonomous Regional Government.
"I bought 26 tickets. My friends and relatives from other places in Xinjiang, like Ili Kazak Autonomous County, will come to visit and see these first-class performances," said Du Hong, a resident in Urumqi. "I bought tickets for Indian, Pakistani, Venezuelan and Chinese dance groups. It will be great to see those performances with my family. There should be more cultural activities of this kind to enrich our life."
"This festival is very important for Xinjiang people who love dancing. So I came," said Li Yuanyuan, a junior student from the Xinjiang University, who is now a volunteer at the festival. "It's tough to be a volunteer here, a feeling which I have never experienced at my university. But I'm determined to offer the best service. What we volunteers have to do is meeting people's needs and satisfying all audiences."
Hometown of dance
Xinjiang is usually dubbed the "home of singing and dancing." There are 47 ethnic minority groups in Xinjiang, each with their characteristic dancing and singing arts.
"Xinjiang people are born to dance. If people want to appreciate the most authentic    dance in China, they should come to Xinjiang," said Yu.
"In ancient times, Xinjiang has been the frontier for China to communicate with the    outside world. Here, Western culture and Eastern culture meet and integrate with each other," said Han Ziyong, Secretary General of the dance festival's organizing committee and Deputy Director of the Department of Culture of Xinjiang Uygur Autonomous Region.
Situated in the hinterland of Eurasia, Xinjiang once served as the key section of the well-known Silk Road in history.
"But ever since the main means of transportation for human beings focused on the waterway, Xinjiang has become less and less convenient for cultural communication as it is situated in the inner land," Han said. "We  all think the further development of this area is further opening up. And holding a dance festival is a good way to propel opening up in this northwestern border."
"All opening up should first be the communication of different genres of culture. Art is the most directly perceived and powerful form of culture. And dance is the most vivid type of art as it reflects people's vigor and personality to the largest extent, because it breaks through the obstacle of language," said Han.
"We think the dance festival, as a national- level platform of cultural exchange, is good for ordinary citizens in Xinjiang to get to know foreign culture, for further expanding the opening up of Xinjiang, for allowing the artistic industry of all ethnic groups in Xinjiang to flourish," said Han.
The number of performances in this year's dance festival is far greater than in the first festival in June 2008. There are nearly 80 performances to be presented by 24 domestic and foreign dance groups.