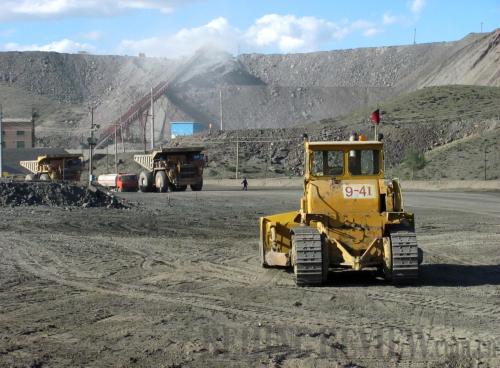 UNEARTHING RARE EARTH: A rare earth mine in Bayan Obo, Inner Mongolia Autonomous Region in operation (CFP)
Worries abound Western countries may use a recent WTO ruling on China's exports restriction on nine raw materials to launch actions against China's curbs on rare earth exports.
An expert panel of the WTO on July 5 ruled China's export restrictions on nine raw materials—bauxite, coke, fluorspar, magnesium, manganese, silicon metal, corundum, yellow phosphorous and zinc—are inconsistent with global trade rules.
The U.S. had threatened to lodge a WTO complaint specifically over China's curbs on rare earth. Last year it asked business groups and unions to provide evidence China is hoarding these elements.
EU Trade Commissioner Karel De Gucht said the raw materials ruling would greatly enhance the EU position in a rare earth appeal.
"The EU wants to see the principles that guided the WTO panel in making the judgment on raw materials also applied to rare earth," he said.
But he also called for a negotiated settlement with China to avoid a full-fledged trade war.
"I am not concerned about possible WTO challenges to the country's policy on rare earth because we have already had effective discussions with the EU," said Minister of Commerce Chen Deming.
"The rare earth issue has not entered the WTO stage," he said.
Zhong Shan, Vice Minister of Commerce, said the country will continue to improve its regulations over exports of rare earth according to both Chinese law and WTO regulations.
For the purpose of protecting the environment and its limited natural resources, the Chinese Government in recent years has reinforced its administration on certain resources, especially "high-pollution, energy-consuming and resource-dependent" products, said Yao Jian, spokesman of the Ministry of Commerce (MOFCOM).
In June 2009 the United States, the EU and Mexico appealed to the WTO that China's export quotas and tariffs on raw materials unfairly favored domestic manufacturers, while driving up international prices. China, in its defense, claimed those measures were necessary to conserve its natural resources and protect its environment.
"Although these measures have certain impacts on domestic and overseas users, they are in line with the objective of sustainable development promoted by the WTO and they help propel the resource industry toward healthy development," Yao said.
"Rare earth is a nonrenewable resource of strategic importance. Tightened regulation will help protect the environment and accelerate the industry's restructuring," Zhong said. China will also synchronize the regulations of exports and domestic production and consumption.
Intractable problems
Rare earth is a group of 17 minerals on the periodical table. Their unique magnetic and phosphorescent properties make them vital ingredients for producing sophisticated products ranging from electric car batteries and wind turbines to aerospace alloys. But mining the precious metals causes serious damage to the environment.
Worse still, reckless exploration has left China in a dire situation with sharply reduced reserves, illegal mining and disorder in exports.