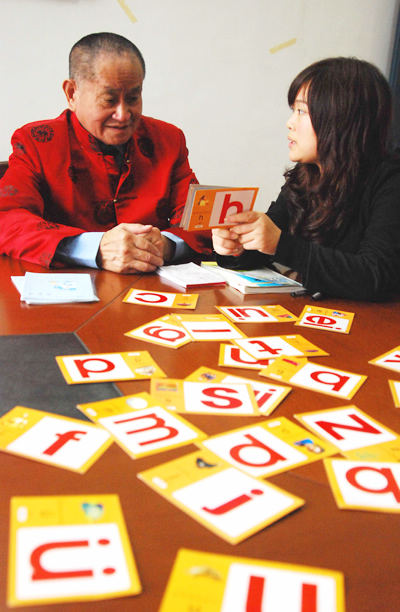 TAKING THE FIRST STEP: Nie Shangzhi (left), a man in his 70s, learns to read pinyin at a primary school in Jiujiang, Jiangxi Province (HU GUOLIN)
In Beijing, everyone speaks Mandarin, but elsewhere in China people speak a variety of regional dialects. Generally speaking, everyone can read and write Chinese.
China is a linguistically conservative country. In fact, up until the beginning of the 20th century, Chinese was written the same way as it had been from the 7th to 10th centuries during the Tang Dynasty. Moreover, Tang officials wrote a language that differed from their spoken language. These courtiers were the educated elite, while over 90 percent of the population was illiterate.
In the 1900s huge language reforms took place in China. Three language issues interested Chinese innovators. They wanted written language to resemble spoken language. They also wanted to restructure the writing system, and support and encourage widespread literacy.
Making written Chinese conform to spoken Chinese was important for literacy. At that time Chinese written language was extremely classical and dissimilar—it was roughly as different as Latin and Italian. The standard spoken language became the Beijing dialect, guan hua, which means official language. But written Chinese proved more difficult to standardize for the masses. True, some books—Dream of the Red Chamber, Jin Ping Mei—had been written in the vernacular, but they did not conform to Chinese Confucian morality. The language in these texts was odd, regional, and even profane.
In the early 20th century, the spoken Beijing dialect took precedence as the standard for written Chinese thanks to a group called the New Culture Movement between 1915 and 1920. In this organization, leading Chinese intellectuals, such as Chen Duxiu, editor for La Jeunesse, or New Youth, started reforms in journalism by using colloquial language for his magazine. He also created several new newspapers, advocating colloquialism in them as well.
Another reformer in this movement was Hu Shi. He studied at Cornell University in the United States and became a leading Chinese poet using colloquial style. After him, other colloquial writers appeared, such as Mao Dun. Mao wrote many sagas and his works reflect the influence of Shanghai colloquialism. Another novelist, Lao She, wrote stories about Beijing in the Beijing style. The writer Ba Jin was influenced by Russian genres; his style incorporates Sichuan colloquialism. Lu Xun, novelist, short story writer and essayist, was a leading light of the New Culture Movement, and author of the renowned The True Story of Ah Q (1922). Finally, the late Chairman Mao Zedong was truly interested in the transformation of Chinese writing. Much of his theoretical work was written using colloquial style, although he knew and used classicisms as well.
Mao supported reforms in the Chinese writing system. This process took two forms: simplifying the characters and devising a phonetic system of writing. Previously, writing was for the upper classes. Many Chinese intellectuals agreed that the writing system acted as a class barrier.
Before the 20th century several styles of phonetic writing had already appeared. The Qie Yun system (from 601) used combinations of two well-known characters—one for the first syllable sound, one for the second. From the 8th century onward, Chinese Muslims used the Arabic alphabet to write Chinese. During the Yuan Dynasty (1271-1368), Kublai Khan ordered Phags Pa, a Tibetan lama, to devise a writing system to help him govern his multi-racial empire. Pa, a linguist, created an elegant phonetic script based on Tibetan and Indian scripts. Sadly, this alphabet disappeared after the Yuan Dynasty fell.
In the 18th century, Portuguese Jesuits coming to China created a Roman script, but it wasn't accepted by the Chinese. Later, in the 19th century, two British diplomats, Wade and Giles, also devised a modified Roman script. It was not widely used and died out quickly.
The New Culture Movement was responsible for creating a successful script: Hanyu Pinyin. This script has roots in the former Soviet Union because Lenin believed that "Latinization is the great revolution of the East." Lenin promoted Latin scripts in Central Asia and the Far East. Significantly, a Chinese intellectual Qu Qiubai attended Russian school in Beijing and later traveled to the Soviet Union.
Qu collaborated with two Soviet linguists and created Hanyu Pinyin's precursor: Xin Wen, which helped Chinese in the Far East and Central Asia to achieve literacy. Mao acknowledged this script's importance. Romanization became a communist priority after 1949. Mao assigned Guo Muoruo and Ba Jin to this task, and Mao remained as an advisor. In 1956, the first official Hanyu Pinyin system came into being. It had some International Phonetic Alphabet (IPA) characters and some Cyrillic characters, but later dropped them.
Hanyu Pinyin has never become a popular standard for Chinese. It will never replace Chinese characters. Why? Perhaps it has to do with Stalin's remark to Mao in the 1950s, when Stalin said every country needed a language with a national alphabet. Chinese characters remain symbolic national treasures that promote pride and identity among all Chinese, regardless of their regional dialects.
The author is an American living in China