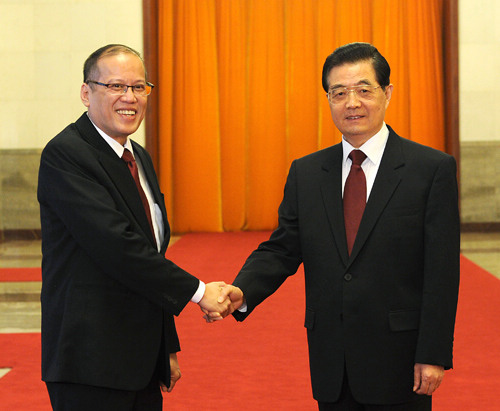 WELCOME TO BEIJING: Chinese President Hu Jintao (right) greets Philippine President Benigno Aquino III during a welcoming ceremony in Beijing on August 31 (RAO AIMIN)
Philippine President Benigno Aquino III recently completed a five-day visit to China, his first state visit to China since he took office last year. The two countries reached consensus on promoting all-round cooperation, especially in trade and the economy, and downplayed disputes in the South China Sea.
Economy first
Aquino's delegation included nearly 300 businesspeople looking for opportunities in China. During the five days, the two sides signed nine agreements, including a five-year plan on bilateral economic and trade cooperation and agreements on tourism, sports and media cooperation.
"Many sectors of the two economies are reciprocal, but their business circles, as well as the two peoples, can achieve win-win results only by enhancing mutual understanding," said Zhang Xuegang, a researcher specializing in Southeast Asian studies with the China Institutes of Contemporary International Relations (CICIR).
"It's a set policy of the Chinese Government to consistently consolidate and develop strategic and cooperative relations with the Philippines," said Chinese President Hu Jintao. He also suggested the two states tap into their potential and expand cooperation in sectors such as trade, infrastructure, agriculture, hydro-facilities, new energy, renewable energy and finance.
"We both should expand friendly exchanges between the two peoples through various means and channels to establish a good atmosphere for the development of bilateral ties," Hu said.
He also promised China will further its cooperation with the Association of Southeast Asian Nations (ASEAN) in various sectors, including economy, finance, communications, transportation, sustainable development, social development and culturalexchanges.
Aquino said his country would be willing to work together with China and boost cooperation in different aspects to promote bilateral strategic cooperation aimed at peace and development. He said the two sides could increase investment and expand friendly exchanges between the two peoples.
During Aquino's visit, the two countries also pledged to double their trade volume to $60 billion in five years. Sino-Philippine trade amounted to $27.7 billion in 2010, making China the third largest trade partner of the Southeast Asian country.
"I invite the Chinese community to take part in this opportunity to invest in an emerging economic force in Southeast Asia," said Aquino when addressing a Sino-Philippine economic and trade forum attended by government leaders and business executives from the two countries.