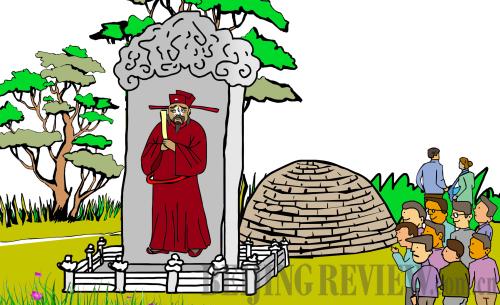 (LI SHIGONG)
It has been reported that the tomb of Cai Jing, a disputed Chinese historic figure, will be restored at the end of this year in Putian, southeast China's Fujian Province. Since the plan was introduced by Cai's offspring, the money for the restoration will mainly come from Cai's family, a few NGOs and the local government. The restoration work is estimated to reach 9 million yuan ($1.410 million) to cover more than 30 mu (20,000 square meters) of the site.
Cai is notorious for his corruption as an official during the Song Dynasty (960-1279). But he is also a very famous and talented calligrapher with many renowned works. When details for the restoration work were released, a heated public debate ensued over whether it is appropriate to restore the tomb.
Supporters think Cai's resting place has great value in academic research and is an important historical relic that needs to be protected. Besides, it can be a future tourist spot for the local economy. It also serves as a warning against corruption for current politicians.
Opponents think restoring the tomb will ruin the national spirit. The local government shouldn't put economics and the potential to spur tourism in Putian over the importance of culture and morality.
Historic value
Zhang Yuzhe (Wenzhou Evening News): The restored tomb will serve as an excellent reminder of the dangers of corruption.
Cai is a very important figure in history, which is not controversial at all. Keeping the tomb and former residence of historical celebrities can serve as an educational tool and way of improving archaeological research. We shouldn't be against the restoration.
Judging a historical figure should be divided into two parts. Cai was corrupt but he also made indispensable contributions to China's calligraphy.
We should respect these facts and use them to educate people. No matter the tomb of Cai or the former residence of Wang Jingwei, head of a puppet regime in Nanjing backed by the Japanese during China's War of Resistance Against Japanese Aggression (1937-45), we should maintain all of them and give moderate restorations and let them be great examples to educate people.
Cai Hui (http://news.163.com): Cai was a zai xiang, the prime minister in ancient times, for 18 years. Besides, he was a talented scholar who made huge achievements in calligraphy, poetry and other writings. Nowadays, more people are studying his life and the restoration of his resting place can offer scholars more materials for studying the times he lived in. The tomb and its environs will be a famous resort for academic research, travel and cultural education.