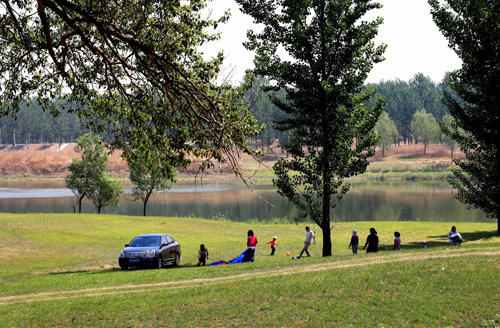 MIDDLE-CLASS LIFE: A family from Beijing enjoys a vacation at a resort near the Wenyu River in Tongzhou District on May 22 (CFP)
China's cities housed more than 230 million middle-class residents in 2009 or 37 percent of the urban population, according to the 2011 Blue Book of Cities in China released on August 3.
In China's main urban centers, Beijing and Shanghai, the middle class accounted for 46 percent and 38 percent, respectively, of the local population.
The report, published by the Chinese Academy of Social Sciences (CASS), defines the middle class as people who spend only 30 to 37.3 percent of income on food. More specifically, the report's lead author, Zhang Lifeng, said they are mostly people in households with a per-capita annual disposable income of between 16,300 yuan ($2,556) and 37,300 yuan ($5,848).
Tan Tan, a young staff in a private company in Beijing with a monthly salary of 5,100 yuan ($800), belongs to the middle class category as defined by the report. But she said she didn't feel "middle class" at all.
Tan spends about two thirds of her disposable income on daily necessities, such as rent, utilities, food, clothing, transportation and phone bills. She saves about 17,000 yuan ($2,665) a year on average.
She believes "middle class" refers to a lifestyle far removed from her own. Facing rising housing prices and inflation, Tan said she found her finances constantly stretched and didn't have the peace of mind with which she associates a middle-class lifestyle.
"I do not own a house. The money I save in a year is not enough to buy 1 square meter of living space," Tan said.
Like Tan, many statistically qualified middle-class Chinese people are struggling to pay mortgages, cars, medical bills and their children's education.
Vague definition
Although the term middle class is widely used, there is no universally accepted definition for it.
The middle class in other countries is usually defined by income and occupation, said Zhang, lead author of the CASS report and a researcher with the academy's Institute for Urban and Environment Studies.
"The American middle class consists of households with an income between $40,000 and $200,000, which accounts for 80 percent of the country's population, while the German middle class includes households with an income between $30,000 and $800,000, or about 55 percent of the population," she said.
The first references to a modern Chinese middle class were made in the late 1980s after China implemented the reform and opening-up policy. Only since the turn of the century have mainstream Chinese scholars been studying the middle class, said Cheng Li, a senior fellow at the U.S.-based Brookings Institute.
According to international standards, to be middle class in a developing country requires a daily income of between $4 and $6, said Li Shi, a professor at the School of Economics and Business Management of Beijing Normal University.
By this standard, China has a very large middle class, but the accuracy of this standard is debatable as developing countries vary wildly. "Whether China has a middle class is contingent on how we define it," Li said.