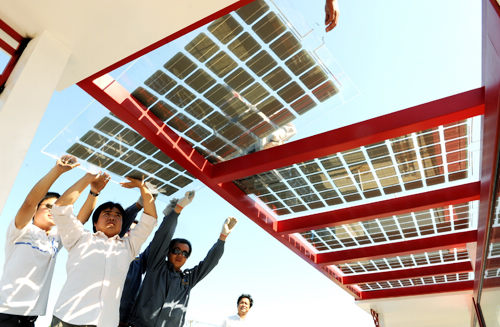 GENERATING ENERGY WHILE YOU WAIT: Workers install solar energy equipment at a bus stop in Lianyungang, Jiangsu Province. The equipment will provide power for LED screens and bulletin boards at the bus stop (GENG YUHE)
U.S.-headquartered diversified power management company Eaton Corp. announced on August 12 that it would achieve sales revenue of $2 billion in China by the end of 2015, doubling its 2010 revenue in the country. The goal is not out of the company's reach since China is vigorously developing its environmental protection and energy-saving industries.
The development plan for environmental protection and energy-saving industries during China's 12th Five-Year Plan (2011-15), formulated by the National Development and Reform Commission (NDRC), has been submitted to the State Council and is expected to be officially published soon.
The plan, which has been open to public opinion three times, divides related industries into three categories—energy saving, environmental protection and comprehensive resource utilization—and offers differentiated supporting policies. Related industries are involved in high-efficiency energy-saving technologies and equipment, high-efficiency energy-saving products, energy-saving service industries, advanced environmental protection technologies and equipment, environmental protection products and environmental protection services.
Fierce competition
Alexander Cutler, Eaton Corp. Chairman and CEO, said China has become a key driver of Eaton's global growth.
Eaton is a global technology leader in developing truck and automotive drive train and power train systems for performance, fuel economy and safety, as well as aerospace fuel, hydraulics and pneumatic systems, all of which are closely related to sectors incorporated in China's development plan for environmental protection and energy-saving industries.
Eaton is devoted to China's jumbo jet project, the C919 aircraft, and has established a joint venture with Shanghai Aircraft Manufacturing Co. Ltd., a subsidiary of Commercial Aircraft Corp. of China. In addition, Eaton has offered various energy-saving products to some large-scale Chinese companies. It has provided safe, reliable and efficient power distribution solutions to subway lines in cities like Beijing, Guangzhou, Hangzhou and Ningbo.
Besides Eaton, other international and Chinese companies are diving into China's energy-saving and environmental protection market, such as Germany-based Siemens and China's Haier Group and Beijing Capital Co. Ltd. Needless to say, competition is getting fierce.
According to a primary estimate by the China Association of Environmental Protection Industry (CAEPI), during the 12th Five-Year Plan, China's environmental protection industries will continue to maintain a growth rate of more than 15 percent, and by the end of 2015 the industrial output value will reach 2.2 trillion yuan ($344.29 billion). Another estimate by the Chinese Academy for Environment Planning of the Ministry of Environmental Protection shows that during the five years, the investment demand in environmental protection industries will reach 3.1 trillion yuan ($485.13 billion), soaring 121 percent from the previous five years.
"The next five years will be a golden age for China's environmental protection industries," said Chen Shangqin, vice chairman of CAEPI.
The Chinese Government is encouraging foreign enterprises to invest in China's energy-saving and environmental protection industries. In April 2010 the State Council released Several Opinions on Further Improving the Work of Utilizing Foreign Investment, encouraging foreign investment in high-end manufacturing industries, high- and new-technology industries, modern service industries, as well as new energies, energy-saving and environmental protection industries.