Global impact
"The path of peaceful development is a new development path and the global impact of this policy will become manifest over time. Its success calls for both the untiring efforts of the Chinese people and the understanding and support of the international community," says the white paper.
"China's peaceful development has broken away from the traditional pattern where a rising power was bound to seek hegemony," Qu said. "The experiences of the past several decades have proved that China is correct in embarking upon the path of peaceful development, and there is no reason whatsoever for China to deviate from this path."
In today's ever-changing world, all doctrines, systems, models and paths are constantly subject to tests.
"As national conditions vary from country to country, there is no such thing as a fixed mode of development that is effective and applicable in all cases. A path of development is viable only when it suits the national conditions of a country," Qu said.
"China's development path has taken shape in the Chinese environment. China is fully aware that taking the path of peaceful development is an important and long-term process at a time when the country and the world are going through profound and complex changes," says the white paper.
China cannot develop itself in isolation from the rest of the world, and global prosperity and stability cannot be maintained without China. China's achievements are inseparable from its friendly cooperation with the outside world, the white paper continues.
It concludes with the hope that the "international community will appreciate China's need to settle, step by step, the various difficulties in development it faces as the world's largest developing country."
And the white paper asks that the international community have confidence in the Chinese people's determination to achieve peaceful development, and support rather than obstruct China's pursuit of a peaceful and prosperous future.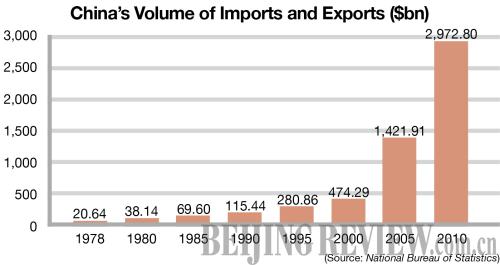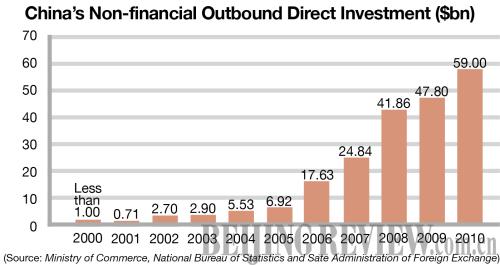 White Paper Highlights
I. The Path of China's Peaceful Development: What It Is About
II. What China Aims to Achieve by Pursuing Peaceful Development
III. China's Foreign Policies for Pursuing Peaceful Development
IV. China's Path of Peaceful Development Is a Choice Necessitated by History
V. What China's Peaceful Development Means to the Rest of the World
Major Targets Set for the 12th Five-Year Plan Period (2011-15)
Annual average GDP growth: 7%
GDP in 2015 (based on 2010 prices): 55 trillion yuan ($8.37 trillion)
Proportion of service industry's output in GDP: up by 4 percentage points
Urbanization rate: to 51.5%
Proportion of R&D expenditure in GDP: 2.2%
Proportion of non-fossil fuels in primary energy consumption: 11.4%
Energy consumption per unit of GDP: down by 16%
Carbon dioxide emissions per unit of GDP: down by 17%
Release of major pollutants: down by 8%-10%
Forest stock: up by 600 million cubic meters
Forest coverage: 21.66%
Jobs created: 45 million
Average annual growth of residents' income: more than 7%
Proportion of expenses for medical treatment paid out of the medical
insurance fund: more than 70%
Urban low-income housing coverage: 20%
China's Global Contributions
- Has contributed more than 10 percent to world economic growth every year in recent years;
- Maintains business and trade ties with 163 countries and regions;
- Has signed 10 free-trade-zone agreements, and signed bilateral investment treaties with 129 countries and double taxation avoidance agreements with 96 countries;
- Has imported goods worth nearly $750 billion every year since its entry into the WTO in 2001, and created more than 14 million jobs for those exporting countries and regions;
- Reduced its tariffs from 15.3 percent before its entry into the WTO to the present 9.8 percent, and abolished most non-tariff measures;
- By the end of 2009, had given assistance worth $40.14 billion to 161 countries and over 30 international and regional organizations, reduced and canceled 380 debts incurred by 50 heavily indebted poor and least developed countries, trained 120,000 people from other developing countries, and sent 21,000 medical personnel and nearly 10,000 teachers abroad to help other nations;
- Pledged zero tariff treatment to over 95 percent of the exports to China from all the world's least-developed countries;
- Is a member of more than 100 intergovernmental international organizations and a party to more than 300 international conventions;
- Has settled historical boundary issues with 12 neighboring states;
- Has dispatched about 21,000 personnel on 30 UN peacekeeping missions, which is the highest number among the permanent members of the UN Security Council.
(Source: China's Peaceful Development)