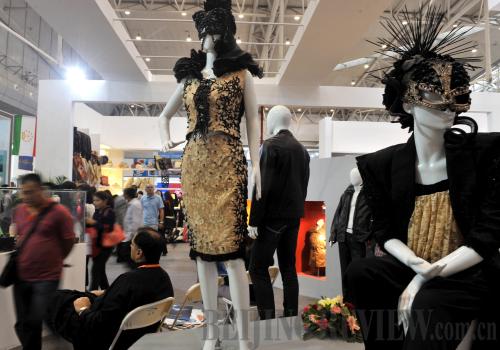 FOREIGN FASHION: Clothes made in Pakistan attract visitors at the first China-Eurasia Expo in Urumqi, Xinjiang Uygur Autonomous Region (WANG FEI)
The first China-Eurasia Expo brought 50,000 businessmen together with 300 high-level officials from China and around 30 foreign countries and regions to promote further economic cooperation in Central Asia.
Delegates met from September 1-5 in Urumqi, capital of Xinjiang Uygur Autonomous Region in northwest China for the expo, which was upgraded this year from the 19-year-old China Urumqi Foreign Relations and Trade Fair.
The upgrade is an all-round expansion in area, level and scale of the original fair, and it made the expo an important stage for exchanges in trade, investment and financial cooperation between Asia and Europe.
Xinjiang, covering one sixth of China's land area, borders eight countries, including Kazakhstan and Kyrgyzstan.
Vice Premier Li Keqiang said Xinjiang is at the frontier of China's opening up to the west, and the government has rolled out a series of favorable policies to propel economic prosperity of the region.
The expo witnessed 178 domestic investment projects in Xinjiang, worth 185 billion yuan ($28.9 billion), soaring 77.9 percent from last year's fair. International cooperation is also deepening. For example, China and Turkey signed a deal to build an industrial park in Urumqi to lure investors from the textile, food processing and hi-tech sectors of Turkey.
"We chose Xinjiang because of its great growth potential, rich resources and geographic advantages," said Volkan Ozturk, a Turkish representative of the venture project. "We hope to take Xinjiang as a springboard to break into the markets of China and central Asia."
To bolster Europe-Asia bonds, countries involved need to build a transparent market environment and remove restriction barriers, as well as strengthen coordinated efforts in infrastructure construction, including roads, railways, flight routes and telecom networks, said Li.
Moreover, it is necessary to enhance cooperation in resource exploration, as well as tourism, manufacturing, environmental protection and financial industry, he added.
Muratbek Imanaliev, Secretary General of the Shanghai Cooperation Organization, said the expo also serves as a platform to help regional governments and business leaders solve tough issues like energy exploitation and environmental protection while enhancing inter-government cooperation.