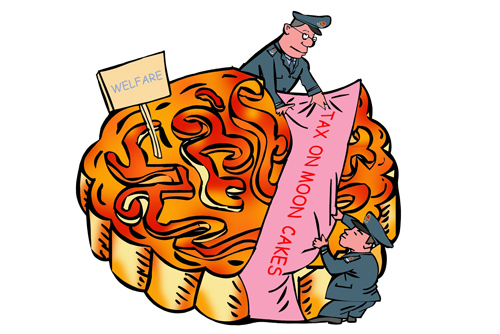 (LI SHIGONG)
It is a custom in China that when the Mid-Autumn Festival draws near, a company or organization will offer its staff moon cakes, as non-cash benefits. It has recently been reported that these non-cash benefits, such as moon cakes, should be taxed according to their value, which has spurred heated debate.
Tax on in-kind benefits is not only happening in China. Working staff have to pay taxes for non-cash benefits offered by their employers. This practice is supposed to prevent tax evasion.
However, many Chinese cannot accept this tax. Some argue that even if the tax on moon cakes is a legal tax item, isn't there any possibility to exempt it? Besides, it's not easy to supervise which companies have paid the tax and which have not. More importantly, giving moon cakes as a gift for Mid-Autumn Festival is a long tradition in China, and companies do so to express gratitude to their employees.
Reasonable tax
He Yong (www.cnhubei.com): The moon cake tax has existed for several years. This tiny tax item has never triggered as much anxiety and debate as today. It implies that the core problem does not lie in the tax itself. People are angry about the moon cake tax because they think it's something new. But actually it's not. This fact shows the public's ignorance of legal regulations on individual income tax. They simply don't know that in-kind benefits are taxed.
So why has the tax triggered debate this year? There are two reasons. First, many people think the newly adopted cutoff point for individual income tax is still too low. Thus, the moon cake tax serves as the scapegoat. The other reason is about increasingly rising living expenses. The Chinese find themselves paying more for the same goods, and in this situation even a small amount of money matters. The moon cake tax has become the focus of people's dissatisfaction with rising living costs.
Although the tax burden is high, the moon cake tax actually has little impact on people's lives. As for those who do not pay individual income taxes, this problem doesn't even seem to exist. Those who have to pay this tax are middle- and high-income earners, which is the case at least in China's central and western regions. However, this group of people does not want to pay the moon cake tax. This shows that some people have not realized the importance of paying tax. They just want to avoid as many taxes as possible.