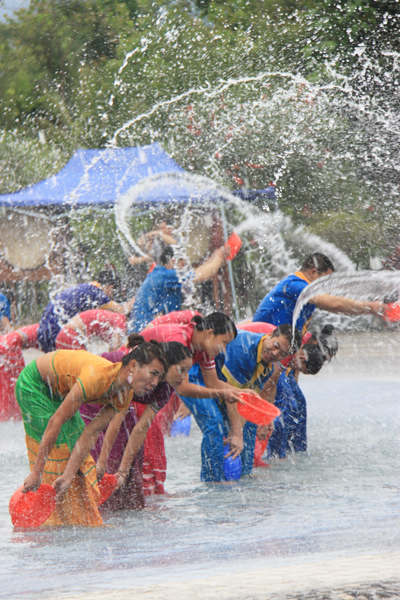 RAIN OF PURITY: Dai men and women splash water during a re-enactment of a special festival in Xishuangbanna Prefecture (BRANDON TAYLOR)
The rain gods always seem to know when I'm outside without an umbrella. They seldom miss an opportunity; whenever I venture out on an excursion into China's wild the blue skies turn black, storm clouds rush in and the skies let loose rains of biblical proportions. On any other day, I would have cursed the heavens and sought cover, but this time I welcomed the shower—it was only fitting as I was in the middle of a tropical jungle.
As a Beijing resident of two years, I've gotten used to the lack of green space and the eternally greenish-gray skies. The vast forests near my hometown in the States have been replaced with the tall buildings and sterile landscape of China's capital. The hustle and bustle of the city is my main driving force, but every so often wanderlust takes hold of me and I find myself rummaging through my belongings in search of my travel backpack and the China edition of Lonely Planet.
Earlier in the summer, I decided to leave Beijing's jungle of buildings behind for another jungle: the real one.
I should have gone to Viet Nam or Laos. Even Cambodia, despite the laundry list of complaints I've heard from friends, would have sufficed. But I decided to keep my trip domestic and tie in a few other China destinations, so I choose Xishuangbanna Prefecture deep in southwest China's Yunnan Province. I'd do some trekking around the province, too.
The first stop was Jinghong, in Xishuangbanna. After an overnight bus from Kunming, the provincial capital, I awoke to palm trees and tropical plants. Welcome to the jungle, I thought, now humming the Guns N' Roses song of the same name. I hoped it would be fun and games.
It wasn't.
Since Jinghong is located on the fringes of Chinese territory, I figured it would be more real, more rugged and devoid of tourists. I was wrong on all counts.
At a botanical garden and rainforest preserve in Menglun, a two-hour bus ride over dirt and dilapidated roads from Jinghong, I had been promised—by guidebooks and hostel staff—a wild array of lush tropical flora and fauna. What I ended up seeing was a pathetic bouquet of dead or dying plants, their color and energy all but lost. The most interesting wild animal was a small lizard clinging to a tree, and even he seemed bored with his environs.
A second forested area sounded more promising. Described as a "real rainforest," jungle No. 2 was an out-of-the-way park not many tourists knew about. I'd have to hire a cab to get there. Maybe this was the jungle I was looking for.
It wasn't.
The rainforest was packed with loud, camera-totting Chinese tourists all fixated on taking as many pictures of me—a wild and exotic specimen if ever they saw one—as they did of the plants and trees.
Soaked and sweating, I hopped on a bus back to Jinghong. We stopped in a village on the way back. There was another scenic area here, a Dai minority park, so I thought I'd give the region one more chance to impress.
"Park" definitely wasn't the best word for this place—it was more like a minority zoo. The minority "attractions" roamed about freely, looking at me not as a delicious snack, but as a potential customer, prepared to part with cash to buy one of their hand-woven shawls or wood carved figurines. I walked around watching the Dai families working, cooking, cleaning and just lounging around. And they looked at me with the same stares of fascination as the other Chinese tourists.
In the distance, I could hear chanting and drums beating. I made my way through the houses and trees to find the source of these sounds.
In a large open area, Dai men and women clothed in a vibrant array of red, blue, green and yellow dresses and robes walked around a shallow pool of water with an elephant-shaped fountain in the middle. They sang and shook tambourines as they paraded around the water.
Then, as the drums beat louder and faster, all out aquatic mayhem broke out. The Dai rushed into the waters and began splashing about. Some had saucers, some buckets, but all were busily engaged in tossing water high into the air and into each other's faces.
This must have been a re-enactment of the Dai's water splashing festival. In Dai culture, water symbolizes purity and the ability to wash away the past.
As I fired away with my camera, each Dai man and woman continued to send torrents of water spiraling into the air around the fountain. Initially I kept my distance, but then decided a spiritual cleansing, if only a faux one, would do me some good.
The splashing continued until rain clouds moved in, leaving everyone who wasn't already drenched running for cover. Still without an umbrella, I sought refuge under the tropical trees and sat, finally enjoying the rain in the jungle.
The author is an American living in Beijing