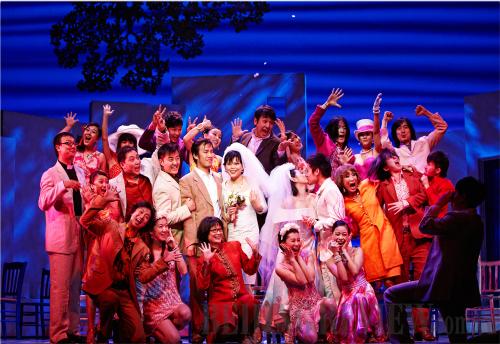 MUSICAL QUEEN: Chinese actress Shadow (center in wedding gown) gets the role of a lifetime as Donna in the Chinese version of Mama Mia! (COURTESY OF SHADOW)
"I still remember the feeling of standing on a stage for the first time, singing and dancing, when I was six," said Shadow, the stage name of musical performer Zhang Aojia. "I felt so thrilled and happy. It was at that time I decided this was what I wanted to do for my whole life."
Shadow has been called China's musical queen. As the heroine of the Chinese version of Mama Mia!, she has impressed audiences with her professional interpretation of the musical's leading role—Donna.
On August 12, the Chinese version of Mama Mia!, the smash hit musical based on songs from the band ABBA, started a new round of 80 performances in Beijing after ending its 32 performance run in Shanghai, where it had a box office total of 16 million yuan ($2,504,000).
After the Beijing tour, Mama Mia! will move to Guangzhou from October 28 to November 24, bringing the joy of the musical to China with more than 200 performances.
The musical holds the record in terms of performances in the world, with a total box office of more than $1.6 billion. It has been performed in 24 cities around the globe in 13 languages and attracted audiences of more than 42 million. The Chinese version is the 14th edition of the hit musical. Shadow is the youngest actress to play the role of Donna.
"I had a special connection with this musical," said Shadow. "Early in 2003 when I was a student of musical stage performance, I played the role of Sophie, Donna's daughter, when we gave a performance in the school."
She dreamed of performing it in her native language when she participated in the launching ceremony of the 2006 English version of Mama Mia! in China.
Now dream has come true and Shadow said she still finds it amazing that she is part of this great musical.