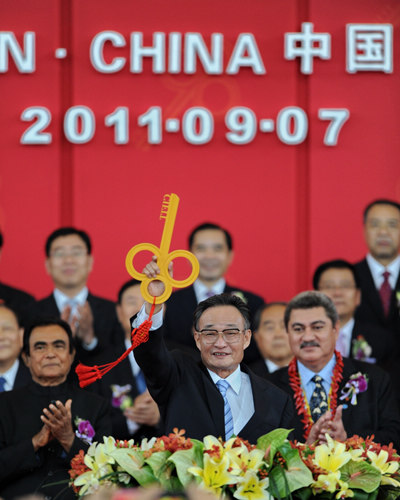 GRAND OPENING: Wu Bangguo, Chairman of the Standing Committee of the 11th National People's Congress, holds the "golden key" to open the 15th CIFIT in Xiamen, Fujian Province on September 7 (ZHANG GUOJUN)
 When Wu Bangguo, Chairman of the Standing Committee of the 11th National People's Congress, turned the "golden key" to officially open the 15th China International Fair for Investment and Trade (CIFIT) on September 7, John Delaney was standing at the Xiamen International Conference and Exhibition Center to watch the opening ceremony. It was the fifth time Delaney, Vice President of Large Industry Investment Asia of Air Products and Chemicals (China) Investment Co. Ltd., was in Xiamen for the CIFIT.
"I think CIFIT can provide the best platform for me to find investment projects in China," Delaney told Beijing Review.
Delaney signed six investment agreements at the CIFIT last year with actual investment of $300 million, mainly in the chemical industry and refineries. This year, he brought with him eight executives from his company and planned to invest $500 million in China's chemical industry, iron and steel and electronics sectors.
"Right now, China's investment environment is the best in the world," he said, adding that all his investments in China in the previous years have been successful. Starting in 1987, Delaney has invested in more than 50 cities in China. "The returns for all the investments have exceeded my expectations," he said.
Delaney was one of 15,118 overseas participants at the 15th CIFIC, an annual event held since 1997 in Xiamen, an island city in southeast China's Fujian Province. By the time CIFIT wrapped up on September 11, the five-day fair witnessed 493 investment projects signed with a total investment of $21.45 billion, including $17.37 billion of foreign investment.
As an investment and trade promotion platform, the CIFIT not only provides communications for foreign investors such as Delaney to look for investment opportunities in China, but also helps Chinese investors reach abroad.
"China has a vibrant economy and its outbound investment has developed quickly in recent years," Shen Danyang, spokesman of the Ministry of Commerce (MOFCOM) who is also the Director of News Center of the Organizing Committee of the 15th CIFIT, told Beijing Review.
"But China's outbound investment is still in its preliminary stage," said Shen. China's $317.2-billion outbound investment stock in 2010 only accounted for about 1.6 percent of global foreign investment stock that year, which was $20.4 trillion. The world's largest economy, the United States, saw its outbound investment exceed $320 billion in 2010.
Despite China's meager contribution, China's outbound investment has risen quickly, especially in the last three years, said Shen. The combined outbound investment from 2008 to 2010 exceeded $180 billion, accounting for 60 percent of China's outbound investment stock in 2010. Meanwhile, China's overseas mergers and acquisitions (M&As) have witnessed rapid growth in recent years. In 2010, overseas M&As grew at a rate of 55 percent and in the first half of this year, growth hit 125 percent.
"Rapid development of China's outbound investment is helping and will continue to help adjust its own economic structure, boost economic and social development of investment recipients and encourage global economic growth," said Shen.