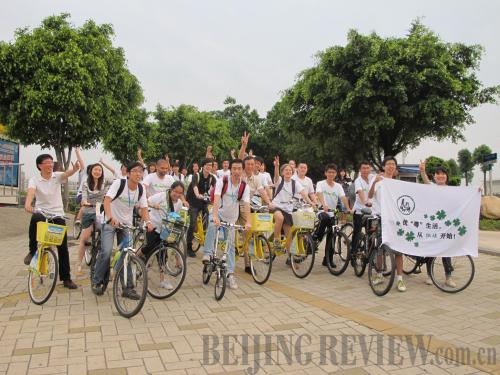 GREEN BIKING: Members of Baike Association and staff from the U.S. Consulate General in Guangzhou, Guangdong Province, go cycling along the green road in Guangzhou's University Town on April 18 (COURTESY OF BAIKE ASSOCIATION)
On July 7, Ou Jiayang, a 23-year-old Guangzhou native in south China's Guangdong Province, met with Hou Yongquan, Director of the city's Urban and Rural Construction Commission.
Ou had waited months for this meeting. As a fresh college graduate, instead of finding a job, Ou started a campaign in May challenging the local government on a costly lighting project.
On April 21, the Guangzhou Urban and Rural Construction Commission proposed a 150-million-yuan ($23.49 million) lighting project for the banks of the Pearl River that runs through the city.
"I am not saying 'no' to this project. But the government spent 200 million yuan ($31.32 million) on a similar project last year," Ou said. "I want the government to tell me why the city needs more lighting along the river bank."
Ou's campaign followed the actions of Peng Yanhui, another Guangzhou native who works for a non-governmental education organization.
At the end of April, Peng launched a campaign on Weibo, China's Twitter-like micro-blogging service, protesting against the lighting project. He shaved his head and called on his supporters to shave their heads and put the bald head pictures online. Peng named his campaign "The Brain Is Brighter."
"I never thought I would initiate such an activity. I used to regard public affairs as none of my business," Peng said. "But as a native of Guangzhou, I love this city so much and I want it to become better. It is my responsibility."
These sentiments were echoed by Ou. "People always complain instead of taking actions to fulfill their responsibility," she said.
Chen Du, one of Ou's friends said while many felt the lighting project was flawed, no one believed Ou's campaign would have a real impact.
"I was thinking if there was a feasibility report, then why didn't the government publicize it so that we could all get a clear idea of the project?" Ou said. "We have the right to know how and why our taxpayers' money will be spent on the project."
Peng's campaign served as an inspiration for Ou, who then started to collect photos of the thumbs-up gesture from those who support her demand for the local government to make public the project's feasibility report.
During the course of her two-month campaign, Ou visited several government departments and submitted petitions requesting the feasibility report be released. She found, however, she was passed from one government department to another, as no section was prepared to meet her demand.
Ou's efforts finally proved successful. Director Hou of the Guangzhou Urban and Rural Construction Commission invited her for a face-to-face meeting on July 7.
At the meeting, Hou said the lighting project was still being evaluated and the feasibility report would be published once it was approved by the municipal government.
"I am satisfied with the Urban and Rural Construction Commission's response," said Ou, who found the meeting with Hou meaningful, dubbing it a "good interaction between the government and the public." She said she would continue applying for the disclosure of the report and work to encourage young people to take an interest in public affairs.
Like Ou and Peng, a group of college students in Guangzhou are busy with another campaign to preserve an old street in the city.
In 2007, the Guangzhou Municipal Government announced plans to renovate the 80-year-old Enning Road.
As the longest road in Guangzhou lined with qilou buildings, a traditional style of urban residential housing, Enning Road is the repository of much of the city's history. Bruce Lee used to live there and his former residence still stands along the street.
In 2009, when Xie Wenjun, a Guangzhou native who was studying in a university in Beijing, went back for his summer vacation, he was shocked to see Enning Road, widely known as one of the most appealing parts of Guangzhou, completely altered.
"Most of the old community is now a construction site and it is hard to trace the places I have known since my childhood," Xie said.