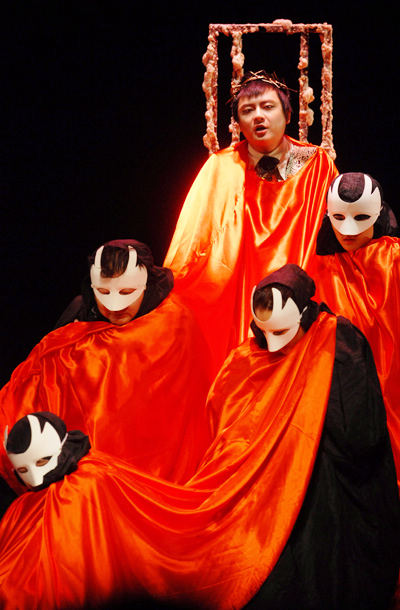 ADAPTED PLAY: The drama Cruel Count, directed by Pei Kuishan and performed in Beijing on September 15, was adapted from French playwright Antonin Artaud's work (WEI YAO)
For drama performance lovers, the weeks surrounding the Mid-Autumn Festival (September 12) proved to be joyous and busy in China's capital: Fifty-seven plays were staged at 11 theaters in Beijing by troupes from 12 countries as the 2011 Beijing Fringe Festival (BFF) was held on September 5-25.
As the fourth Beijing International Youth Theater Festival, this year's BFF embraced the theme of "Hello, World" and expressed the organizer's emphasis on international communication. The BFF not only invited international drama troupes to perform, but also established ties with the Avignon Theater Festival of France.
In July, the organizers of the BFF led a delegation of Chinese performing artists to attend the 65th Avignon Theater Festival, the world's most reputed, to exchange ideas and experience with international partners. For the Beijing festival, the BFF also created a special unit and invited six performances from the Avignon Festival's Off unit for the first time.
The Avignon Theatre Festival (ATF) has become an essential summer event in France since its creation by French theater director Jean Vilar in 1947. This summer, Avignon in southern France was "colored" with a brilliant Chinese red due to participation from Chinese drama troupes.
The Avignon festival is divided into two parts: In and Off. Festival Off is unofficial, created by artists in 1966, and open to all artists to show their performances and works. Six Chinese dramas recommended by BFF and Beijing Young Dramatists Association (BYDA) took the stage at Avignon , receiving praise from French audiences at Avignon Festival Off from July 8 to 31.
On July 10, "China Day" kicked off at the Popes Palace of Avignon, marking the first official debut of Chinese modern drama at the renowned theater festival.
"We would like to present our Chinese dramas and local Beijing dramas to the world through this activity and allow more audiences, especially French audiences to have a better appreciation of Chinese dramas," said Wang Peng, Deputy Director of Beijing Municipal Bureau of Culture, at the China Day event.
"I love Chinese culture. Chinese dramas, either modern or traditional, both fully embody Chinese characteristics. We will visit Beijing in September and exchange ideas and whatnot on dramas with Chinese counterparts," said Greg Germain, Chairman of the Organizing Committee of Avignon Theater Festival's Off unit.
"China Kisses" was the slogan of the Chinese delegation in Avignon. General Art Director of BFF Meng Jinghui said, "Kissing is a romantic way of saying 'hello' for the French, while in China it represents a promise. We bring Chinese dramas here to say hello to international theater circles and French audiences, and we promise Chinese dramas will be back next year."
Though this was not the first time China attended the ATF, it differed from last year's appearance.
"Usually, we like to showcase traditional Chinese opera, such as Peking Opera, to foreign spectators during cultural communication. This summer we staged six modern Chinese dramas in Avignon, which were featured with innovative ideas of young Chinese dramatists to show the new achievements of Chinese dramas," Meng said. "The premieres of these Chinese dramas have won the warm applause of audiences in France."
Dramas that combine traditional Chinese stories with innovative ideas and modern elements can be massively popular among Western audiences. For instance, Cooking a Dream, directed by young playwright Huang Ying, was praised by audiences during the Avignon festival, due to its fantastic story and excellent performance. The story, originating from the Tang Dynasty (618 - 917) and already widely known among Chinese, had never been shown in France before.