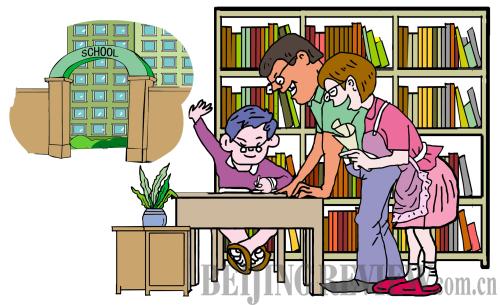 (LI SHIGONG)
The new semester has begun and students have gradually returned to their schools. However, the end of the summer holiday doesn't mean a return to school for some children. Today, a growing number of children in China are staying at home, not because they are giving up education but because their parents think they will actually receive a better education at home.
Ye Wanhong is an advocate of homeschooling. For 12 years she worked as a Chinese teacher at a primary school in Guangzhou, south China's Guangdong Province. Despite her experience as a teacher, she was unable to find a suitable kindergarten for her daughter and moved her from school to school. Last year she finally resigned from her school and began teaching her daughter at home.
Ye believes education should be like a delicious meal that is prepared by a mother for her children: nutritious and warm. She hopes to offer tailored courses to her daughter and never tries to limit her to any fixed textbooks.
Today, many parents in China, particularly those in cities, are dissatisfied with the country's education system. They believe the current education mode, such as its contents and teaching and appraisal methods, is outdated and prevents children from experiencing the joy of learning. To change the situation, they choose to educate their children at home or send them to smaller private schools.
This phenomenon has attracted a range of commentary from experts as well as parents. Supporters say that today's education system is too fixated on exam results to allow students to reach their full potential. Opponents, however, argue that insulating students from normal school education will affect their ability to integrate with the rest of society in the long-term.
Xu Xunlei (www.zjol.com.cn): As early as the 1990s, Zheng Yuanjie, a famous Chinese writer of children's stories, decided to have his son Zheng Qiya study at home after his son finished primary school study. He compiled textbooks for his son. Today, his son has grown up to be a successful person, opening bookstores, starting magazines, and setting up photography studios. He now owns a culture company. Zheng Yaqi is not the only example of successful homeschooling. Another example, Han Han, a young Chinese writer who quit senior middle school, has grown into an excellent writer.
China's current education mode is killing students' personalities and depriving them of happiness. Look at Chinese middle school students, especially those who are preparing to go to a higher-level school, they live with such extremely heavy study pressure. That's why we have seen so many students suffering from depression and even committing suicide. They are forced to do mountains of schoolwork. Besides, they have to go through numerous examinations. Because only by pressing them in this way can schools manage to prepare them for college entrance examinations, which are the final aim of all that tough experience. At first they are creative children with unique personalities, but after the torture of 12 years' traditional education, many of them are finally made into mediocre people passively adapted to the social environment.
Deprived of the happiness of childhood, they finally grow up and enter universities, but by this time, they have almost totally lost any interest and enthusiasm for studying. What matters is the education method—a love of learning, not particular courses. However, the traditional education mode is going in the opposite direction.
Good education will make the public feel happy, but bad education policy, such as an examination-focused education system, will add to students' misery. People's personalities differ, so education should be diversified. It's not time to oppose homeschooling, but time to reform the current rigid examination-oriented education system.