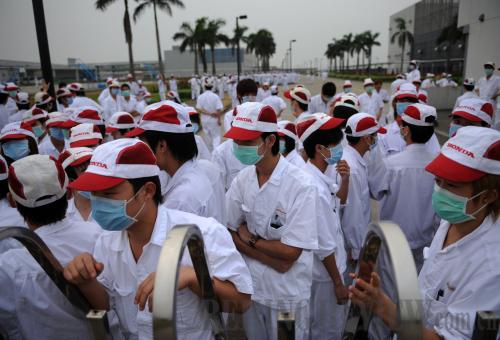 ON STRIKE: Hundreds of striking workers of Honda Auto Parts Manufacturing Co. in Foshan City, Guangdong Province, gather at the gate of their company on May 26, 2010 (CFP)
After months of negotiations, workers at Honda Auto Parts Manufacturing Co. in Foshan City, south China's Guangdong Province, secured an increase of 611 yuan ($96), or 32 percent, to their monthly pay on June 25.
It was already the third time the factory's workers had garnered a pay raise through collective bargaining in a year.
Labor relations experts said the first collective bargaining in Honda's Foshan facility, which took place a year earlier, also marked the first successful instance of the negotiation process in China after 1949.
Workers started to negotiate for a salary increase after a strike broke out at the Honda facility on May 17, 2010. The 19-day strike was the "most influential one in China since 1949," said Kong Xianghong, Vice Chairman of the Guangdong Provincial Federation of Trade Unions.
The strike is distinctive as workers in this case were requesting long-term future benefits rather than protesting a past grievance.
"A surge in strikes and labor disputes in China reveals the desire of the country's working class, primarily a new generation of rural migrant workers, to be paid more than the government-set minimum wage," said Qiao Jian, Director of the Department of Employment Relations of the China Institute of Industrial Relations.
Qiao said this phenomenon also indicated there was a need for China to begin to move away from an economic growth model built on cheap labor. "China should no longer power its economic growth mainly through export-oriented industrialization, instead it should boost domestic consumption and increase workers' salaries," he said.
On the morning of May 17 last year, hundreds of workers at the Honda facility in Foshan's Nanhai District made the unusual decision to stage a strike and demand a pay raise.
The strike took place days after Honda announced an aggressive plan to boost the annual production capacity of its joint venture with Guangzhou Automobile Group Co. Ltd.from 360,000 units to 480,000 vehicles by the end of 2011.
Honda is Japan's second largest automaker and China is the company's second largest overseas market, after the United States. In 2010, the company sold 655,000 vehicles in China, up 13 percent from the previous year.
Several hours after workers left their posts, the factory's management promised to consider their demands and the workers returned to their jobs. Negotiations between workers' representatives and the management proceeded in the following days.
Workers demanded an increase of 800 yuan ($125) to their monthly salary, and an annual pay raise of no less than 15 percent.
Before the strike, monthly salaries of front-line workers at the factory averaged 1,524 yuan ($239). But bonuses at mid-year and the year end brought workers' average monthly income up to 1,852 yuan ($290).
Though the government-set minimum wage last year was 920 yuan ($144) per month, most of the workers were unsatisfied with their income "because of rising consumer prices," a Foshan City official said.
Chen Cheng, a worker who began working at the factory in late 2010, said after the payment of social security premiums, he made only about 1,100 yuan ($172) per month, which Chen said could barely make ends meet. The factory's Japanese executives were paid more than 100,000 yuan ($15,661) per month.
After two rounds of negotiations, the management agreed to give all employees, excluding interns at the factory, a pay raise of 55 yuan ($8.5). The offer enraged the workers.
As discontent within the factory spread, on May 22, the management announced the dismissal of two of the strike's leaders, which worsened the situation. Following the announcement, all 1,800 workers went on strike, which, due to streamlined production, led to production halts in three other Honda facilities in China.
While the strike, which lasted over two weeks, crippled Honda's manufacturing operations in China, workers were unhappy about the role played by their trade union. They felt trade union officials in the factory tended to behave as a figurehead that was blind to workers' real needs and accused them of even playing the role of a strike breaker. On May 24, workers requested a change of leadership of the factory's trade union.