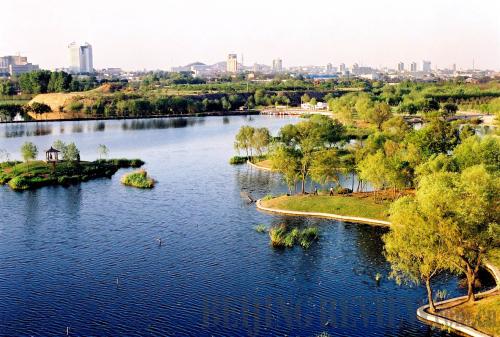 BLACK TO GREEN: A coal mining subsidence area in Tangshan, Hebei Province, has been turned into a large park (GONG ZHIHONG)
Social workers have made frequent visits to the district, advocating proper methods of waste deposal and helping local residents clean their neighborhood.
"Now that the streets and stairways are clean, residents are able to take pride in their neighborhood and are willing to make an effort to keep them clean," said Chen Hanzhong, an official of Qiaokou District that administers Fazhan Neighborhood.
Tangshan in north China's Hebei Province is best known for the catastrophic earthquake in 1976 that almost entirely destroyed the city and killed more than 240,000 people. More than 30 years on, however, the city is seeking to establish itself as one of the best places to live in China.
The municipal government of Tangshan has worked unremittingly to improve its citizens' quality of life. The city's quest to earn a spot on the national list of cities with an advanced living environment started on February 4, 2009, with the announcement of a three-year plan to achieve the goal.
In 2009, the municipal government carried out a reform to improve its efficiency and implemented a new accountability system. Under the new system, the first civil servant to receive a request from a resident has the responsibility to respond. If the request falls in his or her lines of duty, he or she should handle the request as soon as possible; if not, he or she should guide the resident to the relevant offices.
The municipal government has also sped up its administrative approval process, and begun to make some services available on holidays. Municipal leaders in the city have made their e-mail addresses public and the city opened 22 hotlines for such services as heating, gas and drinking water supplies and tourism service.
Since 2009, the local government has launched a number of projects to improve the city's medical system, traffic conditions, cultural and sports facilities and the ecological environment.
The municipal government has also solicited public opinion on how to improve Tangshan's living environment. Since 2006, every December has been designated the "Month of Public Consultation" in the city. According to Tangshan Labor Daily, so far, the municipal government has received more than 100,000 pieces of advice. Since May 2011, municipal leaders and more than 6,000 civil servants in the city have visited more than half a million households to inform them of the living environment improvement initiatives and listen to their opinions.
Tangshan used to be a dirty coal mining city but the city has changed its economic structure and become less dependant on resources and energy production. Air quality has improved and areas damaged by mining have been turned into parks.
As part of an effort to gauge the success of its initiatives, the municipal government has commissioned a series of resident satisfaction surveys, with the latest survey indicating 98 percent of Tangshan residents were satisfied with the improvements being made to their city.
The desire to make the national list of cities with an advanced living environment has not only spurred cities to improve their municipal facilities but has encouraged authorities to take an interest in the moral conduct of their citizens.
In Changzhou in east China's Jiangsu Province, a special team has been employed to patrol Internet cafés to monitor the Web-browsing habits of young people and prevent them from downloading pornography and illegal games. Law enforcement teams have also been sent to inspect book vendors operating near schools and university campuses.
The city also stepped up its crackdown on counterfeit products. Since 2010, 52 manufacturers of counterfeit goods have been shut down. The city has also opened a product quality complaints hotline. The municipal quality watchdog is responsible for handling such complaints.
In the past three years, Changzhou has carried out nearly 100 special anti-crime operations. A number of security cameras have been installed to improve security within the city and the number of violent crimes in the city has dropped over the past three years.
Changzhou Evening News said this is a clear demonstration that the making and publication of the national list of cities with advanced living environment is making a real difference to the lives of local dwellers.
Cities With an Advanced Living Environment
The National List of Cities With an Advanced Living Environment was first published in 2005 by the Publicity Department of the Communist Party of China's Central Committee to evaluate cities nationwide by certain standards including clean environment, efficient government, sound social development, safe public order and etc. It is the highest honorary title for cites in China, reflecting the comprehensive conditions and development level.
The list is released every three years. The first batch of nine recognized cities and three urban districts was announced in October 2005, with the second list following in January 2009. After making the list public, the panel of judges continued verifying the awarded cities to decide whether they can keep their honorary titles in following years. The evaluation process includes six main steps: application, review, questionnaire survey, online survey, investigation, and overall assessment.
During the evaluation process, the scheme focuses not only on economic growth and GDP, but also on people's livelihoods and the overall progress of society. Moreover, the social and cultural environment can actually reflect the living standard of cities.
(Source: www.wenming.cn)