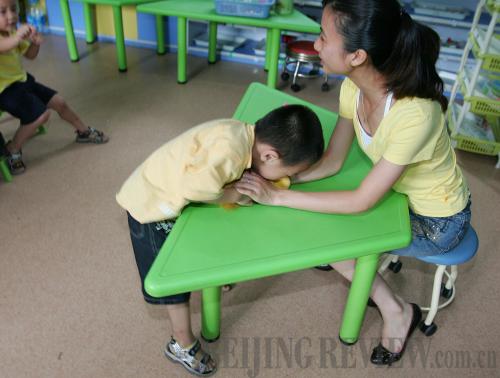 YOUNG PATIENT: An autistic child clutches the toy in a teacher's hand in an autism rehabilitation center in Guangzhou, Guangdong Province. Such children usually are impaired in social interaction and communication (CFP)
Jun Cai from a village in central China's Hunan Province was a model student. A talented writer, he had dreamed of pursuing a career in writing since childhood. But his father, a doctor, hoped he would study medicine. When Jun was in his second year of high-school, his grandmother suffered a fatal stroke and Jun's father made him swear to enter medical school in front of his dying grandmother.
A year later Jun entered medical school, but he became nervous and uncomfortable. He was particularly unhappy in classes like anatomy and acupuncture that require physical contact with patients.
From his second year in university, Jun began to suffer from insomnia and nightmares. He wrote to his parents about his wish to drop out and reapply for another major. But his father insisted he should stick to medical science.
Increasingly frustrated, Jun began to have abnormal thoughts and behave erratically. Finally on seeing a corpse during one of his internship rotations, he suffered a mental breakdown.
He was admitted to a mental health facility. However, he could no longer recognize his own parents and at times he even attacked them.
Jun's story was recounted in a book on Chinese children and teenagers' psychological crises published this January. The book was co-authored by Sun Yunxiao, Deputy Director of the China Youth Research Center in Beijing, and Ruan Mei, a writer.
To compile this book, the authors spent seven years visiting primary and middle schools, reformatories for juvenile delinquents and psychiatric hospitals in many provinces. After talking to hundreds of patients, they published a record of typical cases that describes the symptoms of dozens of young mental patients.
The Chinese Center for Disease Control and Prevention estimates at least 30 million Chinese youth under the age of 17 suffer from psychological and behavioral disorders.
Cui Yonghua, a child psychiatrist with the Beijing Anding Hospital, said although China has not carried out any nationwide survey on mental problems among children and teenagers, most experts agreed with the estimate of 30 million.
"The number 30 million is based on regional research conducted in recent years. Since the mental health of children and teenagers must have worsened over time, the real number could be even higher," Cui said.
According to the Chinese Center for Disease Control and Prevention, in primary and middle schools, about 22-32 percent of students suffer from some form of mental disorder. The most common symptoms are interpersonal difficulties, emotional instability and learning disabilities.
It also estimates in Chinese universities, about 16-25 percent of the students suffer mental illnesses. They typically experience anxiety, phobia, neurasthenia and depression.
"More than 14.61 million school-age children, or about 4.31-5.83 percent of China's total, suffer from attention deficit disorder (ADD)," said Zheng Yi, Vice President of the Beijing Anding Hospital and Director of the hospital's Department of Child Psychiatry.
Studies show children with ADD are five to 10 times more likely to exhibit anti-social disorders and become addicted to harmful substances and engage in crime. Without treatment 70 percent of children with ADD will continue to show symptoms in their adolescence, and 30 percent will be haunted by the disease in adulthood and may develop other mental disorders.
Currently, very few medical institutions in China have specialized child psychiatric departments, including two in Beijing, and one each in Shanghai and Sichuan Province.
These psychiatric departments have a total of fewer than 100 beds. According to Zheng, China has no more than 200 child psychiatrists.
In their book, Sun and Ruan blamed the poor mental health of Chinese children and teenagers on the outdated education methods employed at homes and in schools as well as a stressful, highly competitive social environment.
"Bad social influences, especially incorrect education guidelines and tremendous pressure from the national college entrance exam are the fundamental triggers for the psychological crisis being experienced by Chinese children and teenagers," the book said.
In 2010, eight primary and middle school students in Shanghai committed suicide. Six killed themselves as a result of arguments with their parents, these arguments typically concerned education.
Chinese parents usually have high expectations on their children.
Spurred by the saying "Do not lose at the starting line," parents now fight to send their children to exorbitantly priced kindergartens, highly competitive schools and additional cram schools.